Manufacture
Formulation,
Drug Delivery
Navigating Technology Transfer for LNP Formulations
Technology transfer can be a challenge with any drug product, but even greater vigilance is needed with more complex formulations, like lipid nanoparticle-based drugs
Larry Beiter |
sponsored by Exelead
A clear advantage of lipid nanoparticles (LNPs) and traditional liposomal formulations is their structural similarity to naturally occurring biological vehicles; as a result, they are generally well tolerated by the body. Increasingly, LNPs are being used to deliver highly specialized therapeutic molecules, such as oligonucleotides, which are seeing increased attention in drug development because of their ability to tackle disease on the genetic level (1).
The focus on oligonucleotides has translated into more research on LNPs, including the best ways to approach manufacturing and analytical challenges. Despite the growing body of research and scientific knowledge, LNPs remain a complex area that necessitates expertise beyond the formulation work required for more traditional therapies. The stability profile of the finished formulation is very dependent on lipid selection and the manufacturing process. The development of an LNP-formulated drug product can be a daunting task unless one has preliminary data to work with or previous experience with lipids. Because of this, it is common for drug developers to seek out an external partner with the right expertise to assist with the challenges.
Technology transfers are common in the pharmaceutical industry – a result of the prevalence of outsourcing and collaboration. But the process can be difficult for LNPs or liposomal products, which are inherently complex and require a more comprehensive manufacturing and testing approach. Naturally, more precautions must be taken; for example, in-process stability is a concern, and an expanded test panel is required to evaluate all critical quality attributes. Compared with a typical parenteral formulation, there will be more unit operations and analytical methods being transferred for an LNP formulation, and the manufacturing environment may need a higher classification.
Perhaps the biggest challenge is the journey into the unknown. Many LNP formulations involve novel payloads or APIs, and interactions between the various raw materials are not always fully understood. The supply chain requires careful and collaborative scheduling, and as such, a successful tech transfer will often rely on parallel transfer and development efforts at raw material suppliers.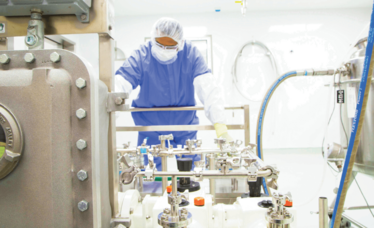 Common questions, unique answers
When looking for the partner who will ultimately be working on your drug product, you need to ask questions. At Exelead, the most common question asked by potential clients is about our experience. Clients, understandably, want to know their project is in experienced hands – and that's at least one easy question for us to answer, as we've worked with many LNP products. Exelead currently supports 15 ongoing liposomal and LNP projects across preclinical, clinical and commercial landscapes and has been supporting the GMP manufacturing and testing of liposomal and lipid-based drug products for over 20 years.
Clients also like to ask how long a project will take. The answer to this question depends on many variables. We can move through a project very quickly, but it depends on how far the client has progressed with formulation and process development. If a client has a functional formulation with an idea of the key methods for GMP, we can be manufacturing clinical batches within a year. If a client only has knowledge of the API and a research paper or two, then additional time needs to be invested in laboratory development to establish a robust formulation. We have the expertise to help companies at any stage, but generally the speed of a project will relate to current development progress and pre-planning. As early as possible, the team must agree on the scope of work and the project boundaries in terms of raw material supply, final product presentation, batch size, product specifications, and client or supplier responsibilities. In our experience, selection of standardized materials and components always helps to facilitate and accelerate the transfer. For instance, if the client can accept a vial and stopper combination that we have already validated, it will save both time and money associated with component procurement and validation. The transfer and scale up to GMP manufacturing will also be smoother if we can use our existing qualified suppliers and existing qualified raw materials.
Another question that often comes up relates to engineering batches, sometimes referred to as test batches or pilot batches. Are they needed – and, if so, how many? The API and raw materials are often very expensive for LNP formulations; manufacturing operations may extend across multiple days, and more than one batch may be required to confirm critical parameters and replicate the quality attributes defined at the laboratory scale. Companies can be reluctant to spend money manufacturing batches that won't be used in the clinic, but successful clinical batches are dependent on the ability to work out the bugs in the process, verify batch records and supporting documentation, and confirm process parameters. The engineering batches ensure we can transition to repeatable GMP manufacturing and provide a reliable clinical supply. Engineering batches can provide additional value by generating the requisite process material for validation activities, such as sterility-related method validation and filter validation. These materials may also be suitable to supply GLP animal studies. We understand that the need to verify design of the process prior to GMP production must be balanced with the finite supply of raw materials and resource.
At Exelead, as soon as we begin evaluating a request for proposal, we start initial process design activities, including identification of unit operations and equipment requirements. We devote process engineering resources, validation and laboratory resources to your project before we've even signed a contract. We start by creating standardized block flow diagrams that identify key equipment, unit operations, testing requirements, and key parameters that need to be maintained. We want to have as much understanding of your manufacturing process as possible, and ensure the scope of work and the proposal address all the necessary decisions and assumptions required to clear the way for the tech transfer team to be successful.
We follow our block flow diagrams with a project definition document that identifies all of the project assumptions. This document includes assumptions related to process design, validation, method transfers, raw material supplies, packaging requirements, outside studies, and more. We put these detailed assumptions down on paper and incorporate them into the proposal to clearly define project scope and provide full clarity for the project team. In some cases, aspects such as method transfers may already be finalized at the proposal stage. That allows us to get started quickly once a contract is signed. Depending on how far the process has been developed by the client, initial steps usually include some evaluation of process operations and methods in a laboratory setting. While those evaluations are happening, we finalize the block flow diagrams and process descriptions, and establish a validation plan.
A team effort
Getting the final drug product to the clinic – and eventually over the finishing line of final approval – is very much a team effort. You need to be confident in your chosen partner. My golden rule for choosing the right company to work with: take time to adequately gauge their level of interest and engagement. Your partner should be as dedicated as you are when it comes to getting your product to market. You should expect them to ask difficult questions about process and product robustness, manufacturing scale, method reliability, and your experience. If they provide limited technical details in their proposal, tell you everything will be fine once the project starts, or show little interest in discussing potential problems? Definitely a red flag.
Communication is key. You need to be prepared for active discussions throughout the project. Any risks or issues should be raised as quickly as possible – ideally during the initial proposal stage. This allows for a comprehensive project plan that avoids problems before they can negatively impact schedule or cost. However, if issues do arise during the tech transfer, the important thing is to quickly address and rectify them. The focus should be on getting back on track as quickly as possible.
My advice to drug manufacturers is to ask questions as early as you can. Don't wait until the contract is signed. Working together to develop a solid base design early will lay the foundation for success – and from there you can focus on continued evaluation and optimization.
Larry Beiter is Director of Process Engineering & Development at Exelead
Receive content, products, events as well as relevant industry updates from The Medicine Maker and its sponsors.
R Keswani and B King, "The Rise of Lipid Nanoparticles," The Medicine Maker (2020). Available at themedicinemaker.com/manufacture/the-rise-of-lipid-nanoparticles