Manufacture
Contract Manufacturing Services,
Business Practice,
Packaging
Responding to Changing Needs
When it comes to delivering biologic medicines to patients in need, choosing the right packaging partner can make all the difference
sponsored by PCI
The pharmaceutical industry is never stagnant; advances happening at all stages of the drug development process mean that packaging suppliers must react quickly and provide high-quality packaging and devices to meet expectations. But what tools and resources are necessary for a rapid response? For PCI, the recently launched Center for Excellence in Biotech Packaging is an essential part of its customer service arsenal. Providing the scale and flexibility to cater to the individual requirements of a diverse array of companies across the industry, it is an example of true manufacturing productivity. Here, The Medicine Maker speaks with Alex Weaver, Director of Engineering at PCI Pharma Services, to discuss how the company is responding to the evolving needs of pharma companies and to dive deeper into the capabilities of its new flagship center.
How have industry trends changed customer requirements?
The pharmaceutical industry is increasingly becoming a biotech-centric sector, with companies developing more biologic products than ever before. With this shift toward biopharmaceuticals, companies are also more closely considering cold chain requirements and the time out of refrigeration when developing new product lines. There is also the trend for patients to administer medicines at home, leading to greater demand for patient-centric drug delivery devices, such as auto-injectors and pre-filled syringes.
These emerging trends are giving packaging suppliers new avenues to explore and consider – and advances in the biopharmaceutical market mean that they must develop enhanced packaging options to keep pace. In addition, it goes without saying that pharmaceutical manufacturers cannot afford packaging defects or excessive testing that requires drug product to be scrapped or wasted; nevertheless, these are still common issues! Suppliers must find ways of overcoming such problems, but what steps should they take to produce superior packs and devices? Well, in my view, investment in the right equipment helps a supplier to expand their capabilities and ultimately helps ensure that the best medicines reach as many patients as possible.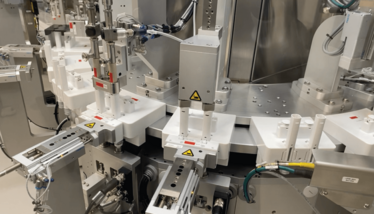 How has packaging equipment evolved to keep pace with change?
Biologics are complex products and this complexity makes them expensive to develop, manufacture, transport, and store. And it also influences the cost of the delivery devices and packaging required to house the drug. For example, in traditional operations, the average pill bottle could cost as little as US$2 to produce, but a delivery device for a biologic could cost anywhere between $50 and $100 to manufacture. The high cost of these devices can be attributed to device complexity and quality assurance; companies need peace of mind that the systems they choose will be defect-free, safe, and easy to use. And that means the technologies and equipment used in operations today are increasingly designed for fast and efficient quality checks.
What role will the Center of Excellence in Biotech Packaging play in meeting customer needs?
We've invested over $25,000,000 in our Center of Excellence in Biotech Packaging. The site is home to state-of-the-art equipment, expert personnel, and high quality training materials – all of which help us achieve our goals of providing customers with best-in-class packaging and devices. The growth of the biotech sector shows no signs of slowing, which is why it was so important for us to invest in our capabilities. Our flagship site expands our capabilities across the US region – providing innovative packaging solutions for biologics and injectable products. Importantly, the center mirrors the expertise of our European sites in the UK and Germany, meaning customers worldwide are able to access the same quality of service.
We are able to support the biopharmaceutical sector as it continues to develop the drugs of tomorrow.
The wealth of resources available means that we are able to support the biopharmaceutical sector as it continues to develop the drugs of tomorrow. We have more machines than ever before for prefilled syringe assembly and labeling, and we have also acquired auto-injector assembly machines and top load cartoners to ensure that the best quality packs and devices can be produced quickly and cost-efficiently. In addition, this new roster of machinery allows us to quickly switch between production formats – in other words, the same asset can be used repeatedly to produce different product models. So, whether a customer wants low volumes of product or large lot numbers, we can rapidly cater to their needs. Simply put, our machinery can be set up in different configurations to meet the specific assembling, labelling, and packaging needs of different biologic products. Whether a product needs a backstop or specific label, we can accommodate a broad range of requirements.
I am confident that our investment in next-generation equipment will enable us to provide broad-scale support to all of our customers, wherever they might be.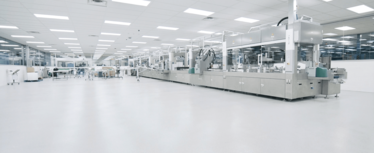 What types of projects have you overseen?
You might guess that the biggest project to date involved COVID-19 vaccine packaging. Biologics are often produced in small lots, but the crisis of the situation we faced required the packaging of an enormous volume of product. We worked closely with our customers to design a carton that could contain multiple vials of vaccine. Having multiple vials in a carton allowed us to maximize the speed on the vial labelling process, which greatly outpaced the rate at which we could assemble single cartons. Using a multiple vial configuration in the carton increased speed and efficiency, allowing us to ship out vaccine more quickly – maximizing the number of doses that we sent to patients in the quickest time possible... We also moved the print locations on cartons and syringes to reduce the number of false rejections, and streamlined processes to reduce the labor required to assemble packs and devices. Ultimately, this helped drive down costs for our customers.
Though we had the capacity to fulfil our customer's expectations, I think the pandemic has really highlighted the importance of collaborating with downstream partners to respond to the crisis. Fortunately, PCI has a long history of working with equipment providers and we were able to call on their expertise to create optimal solutions during a time of great need.
What are your predictions for the future?
As we move forward, the industry will have to look more closely at the ways it can reduce waste. The nature of manufacturing means that there will always be some excess produced, but, if we can minimize it, we can drive down the costs of medicines – allowing therapies to reach more patients worldwide. This latter goal is paramount to PCI – and we're constantly investigating how we can reduce manufacturing waste; the more solutions we develop to help achieve this the better! After all, when you eliminate waste, everyone wins – from the drug developer to the end-user. Through our efforts in these areas, we hope to have a long lasting impact on the biopharmaceutical sector. What is certain is that we will always stay committed to our goal of bridging the gap between pharmaceutical innovation and patient needs.
Receive content, products, events as well as relevant industry updates from The Medicine Maker and its sponsors.