Manufacture
Bioprocessing - Single Use Systems,
Facilities
Single-Use Tech Manufacturing Site Opens in Tennessee
New facility will be one of the largest single-use manufacturing sites in the world
Stephanie Sutton | | 3 min read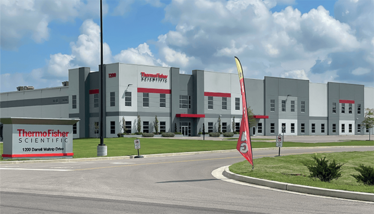 Demand for single-use tech is growing as the pharma industry continues its focus on biologics, cell and gene therapies, and vaccines. To keep up with the trends, Thermo Fisher Scientific has opened a new site in Lebanon, Tennessee, comprising 400,000 square feet of space that includes a 92,000 square foot clean room. The company claims this will be the largest single-use manufacturing site in its network – and one of the largest facilities of its kind in the world.
"The COVID-19 pandemic created materials supply shortages across the board and ushered in new challenges within the labor market. Single-use technologies enable faster production with fewer physical material requirements in a much more efficient manner; therefore, the technology has become essential to any successful bioproduction manufacturing facility," says Dan Rosen, Vice President and General Manager, Flexible Solutions at Thermo Fisher Scientific. "For the bioproduction industry, it is worth noting that, as new viruses – such as monkeypox – emerge and outbreaks take hold, faster, more efficient production requiring less product is of the utmost importance."
The new facility has come together rapidly despite challenges caused by the pandemic. The first phase of development was completed and commissioned in Q2 2022, with the full project taking just one year to complete. "Like everyone else, certain supply chain issues related to the procurement of construction materials impacted the company's planning, but nevertheless, we managed to stay on track and open the facility as initially planned by Q3 of 2022," says Rosen. "The greater Nashville area is a hub for biopharmaceutical manufacturing and development, so this location enables us to better serve our existing biopharma customers and attract new customers as well. This new site is just one component of our US$650 million multi-year investment to expand our bioprocessing production capabilities."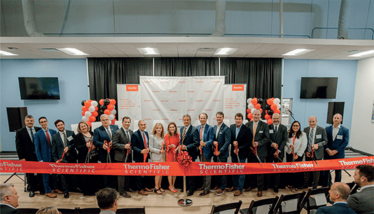 Quickfire Q&A

What are the biggest trends and demands in single-use?

The biggest trends are single-use bioprocessing containers and fluid transfer assembly systems that readily integrate into all steps in the production of biologics, vaccines, and cell and gene therapies.
The development and manufacture of an increasing number of biologics and vaccines continues to boost the overall demand for single-use technologies, which reduce manufacturing risk and improve operational efficiencies. We opened our Nashville facility to meet these demands and ensure a reliable supply of critical materials for vaccine and biopharmaceutical manufacturers.
How has the pandemic affected demand for single-use tech?

COVID-19 and its accelerated vaccine development played a significant role in the bioproduction industry. Not only was there immediate global demand for vaccines and the boosters that followed, but the pandemic also created disruptions and uncertainty across the industry. By decreasing the overall volume of materials required to produce vaccines and other therapeutics via single-use technologies, the supply chain isn't as adversely impacted and customers can deliver more faster, thus alleviating some of the supply chain-related issues. The pandemic highlighted the importance of focusing on single-use technologies moving forward.
How would you like to see single-use tech develop in the future?

We hope to help to enable a continuously decreasing reliance on material volume by producing even more effective single-use technologies.
Receive content, products, events as well as relevant industry updates from The Medicine Maker and its sponsors.