Manufacture
Bioprocessing - Single Use Systems
The Great Debate: Stainless Steel Versus Single Use
Initially viewed with caution by the bioprocessing industry, single-use systems have become mainstream technology. Will single-use eventually win out over traditional stainless steel, or will hybrid systems offer the best of both worlds?
Ken Clapp |
sponsored by GE Healthcare
Which technology is the best for bioprocessing? Stainless steel is the old favourite and boasts a long history in biopharma manufacturing, but single-use systems offer reduced cleaning and validation – and are gaining ground fast. In many cases, companies are reaping the unique benefits of both by implementing hybrid approaches, but in some corners the great debate rages on.
Ken Clapp entered the industry before the advent of single-use systems. When first introduced to the technology, he was an immediate convert and eventually joined single-use pioneer XcellerexTM, which was acquired by GE in 2012. Today he is Senior Manager, Applications, Technology & Integration at GE Healthcare Life Sciences. However, he still fondly recalls his days with stainless steel and believes that such systems still have a place in industry. We caught up with Ken to get his take on the stainless steel vs single use debate.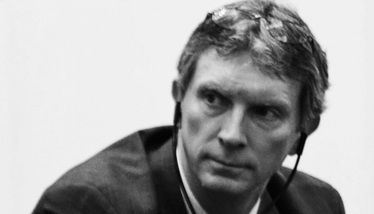 How have single-use systems advanced over time?
Today, single-use systems are increasingly popular in bioprocessing and I'm hearing many exciting conversations in the industry. Initially, single use was viewed with caution but conversations are now moving on from concerns around extractables and leachables, to how to deploy the technologies most effectively in a given plant.
Over the years, there have been countless improvements in single-use technology. Single-use tubing and filter technology have been available for a long time – and advances there have certainly aided the speed and quality of biological manufacture – but the biggest innovation in the field was the creation of the single-use bioreactor. If we look back to the early 1990s, no one was thinking about single-use bioreactors at all because stainless steel was getting the job done. The first single-use bioreactor was the rocking WAVE Bioreactor™, developed in the late 1990s. That really got the industry talking and thinking about the potential of single use – and paved the way for the development of larger, more sophisticated single-use, stirred-tank bioreactors. At first there was scepticism about whether a single-use bioreactor could perform the same as a stainless steel bioreactor, but vendors have done a lot of work in this area to demonstrate equivalence.
Changes in biopharma manufacturing, as a whole, have also had a role to play in making single-use a viable technology. In the 1990s, biopharma manufacturers were generally used to sub-gram/L titers, and there was a very formulaic approach to biologics production; the benchmark set-up for manufacturing was six packs of 20,000 litre tanks. This was great for engineering companies – allowing them to repeat the same model for anyone who wanted biomanufacturing capacity! These huge tanks still make sense for products that have low titer and a large patient population, but as biopharma manufacturing has advanced, processes have intensified and yields improved, which reduces production volumes and makes smaller, single-use bioreactors more feasible. Today, we live in the age of flexible manufacturing and smaller systems are increasingly practical/appropriate. Many new facilities – particularly those being built in emerging markets, such as China – are being built to primarily house single-use systems because of the tremendous advantages that single-use offers in terms of reduced cleaning, lowered utility costs, a more flexible facility design and improved capital efficiency. With stainless steel, once built, you have a fixed infrastructure and layout.
Are there benefits of sticking with stainless steel?
For some companies, yes. Stainless steel is the foundation of the industry and there's a lot of experience in stainless steel operations, facility design and project execution. In a conservative industry, many companies prefer to stick with what they know. A common sentiment that I hear is, "Yes, single-use systems make sense but I'm very comfortable with stainless steel. Single-use is a big unknown and I don't want to take that risk."
As well as fear of the unknown, there is also the issue of scale. Companies that manufacture very large volumes of a drug may have to use stainless steel because there are limits to the capacities offered by single use. For instance, for a single-use bioreactor, 2000 L is the most practical size. For many companies this is enough, but some manufacturers need to have larger systems. Larger single-use bioreactors do exist, but handling a large bag is more challenging and the consequences, should a leak occur, have been considered too great. – though, in my experience, bag leakage or breakage is very rare.
Stainless steel tanks definitely don't pose a leak risk like single-use, but they do have their own set of problems – contamination happens more often than you might think. Problems with steam-in-place and temperatures not being high enough are common, as are issues relating to incorrectly positioned o- rings, gaskets or seals. I mentioned the danger of mishandling single-use bags, but it's also common for people to mishandle their stainless steel equipment. For example, I've seen people standing on piping to use it as a ladder! Eventually, this can lead to problems with the pipes due to compression – and these issues can be difficult to track down in a large maze of stainless steel piping infrastructure. To isolate such problems you will need to systematically take the system apart, reassemble and resterilize, until you find the problem source – which creates a lot of downtime.
How challenging is it to switch from stainless steel to single use?
First and foremost, you must consider the volumes that you are working with, since these will dictate the best technology for you. You also need to look at what your organization is capable of operating with. Changing to or implementing single-use bioreactors will need to begin prior to manufacturing – this may alter time to market as well as the financial picture.
Generally speaking, single-use equipment is relatively simple to set up – and most of the operators I've met prefer single-use once they get used to the equipment because there is no concern for soil carry-over and no batch-to-batch product contamination. However, using a single-use bioreactor is different than using a stainless steel bioreactor, which can make operators uncomfortable when they first start to use single use. The operator will need to learn to handle and install the single-use bag correctly – all relatively easy, but very different than working with stainless steel systems.
What are the benefits of a hybrid approach?
Many facilitates today make use of both stainless steel and single-use in a hybrid approach. I am seeing a lot of companies still opting to build a stainless steel plant, but then implementing some single-use systems for certain processes to make them more efficient or cost effective. A hybrid plant is good way of building familiarity and confidence in single-use systems while maintaining production capacity.
At the moment, you can't use single-use technology for every part of the bioprocess, so even if this is your technology of choice you will still have a hybrid environment that uses some stainless steel.
At the moment, you can't use single-use technology for every part of the bioprocess at some scales, so even if this is your technology of choice you will still have a hybrid environment that uses some stainless steel. As an example, take single-use microbial fermentation, which is currently at the level where single-use cell culture was around 10 years ago. Single-use fermentation can add value to a microbial process, but it should be approached with a good deal of caution because it is very demanding in terms of materials and process performance. The metabolism of the microorganisms establishes specific limitations around heat generation and heat transfer. In that regard, there is a lower practical limit in volume for single-use fermentation than for cell culture. Right now, we have single-use fermentors that go up to 500 L, and we have found equivalent performance between these and stainless steel technology. In some instances, small volume systems can be enough; for example, you can use a single-use fermentor to seed a larger scale stainless steel fermentor (this is analogous to what we are seeing in large facilities for cell culture). Or, where it makes sense, you could scale-out multiple single-use fermentors to achieve the required manufacturing volume.
Where is biopharma manufacturing heading?
My opinion is that we need a better business model for biomanufacturing in today's challenging world – and single-use provides a tool to create a better and more flexible manufacturing facility as a basis. In some cases, manufacturers will have to use stainless steel to produce large (product) volumes, but there will still be opportunities for them to exploit single-use technologies to improve processes. Personally, I think that one of the biggest drawbacks to using stainless steel is when production ceases permanently; perhaps a drug goes off patent and is no longer commercially viable. The manufacturer may be left with a stainless steel monument to a bygone product. Reclamation or re-use of that space, for other products, is likely to be economically impractical. With a single-use technology infrastructure, a company can quickly scale down their operation or transfer the portable equipment within their manufacturing network to support new production demand.
The biopharma industry is conservative, and not everyone is keen to embrace new technologies, but there is also danger in ignoring them. I think it is good practice to always evaluate new technologies and assess which ones will be viable for your own business model – new technologies that allow for more effective manufacturing are key to remaining competitive. The early adopters of single-use were the newer companies that wanted to make their mark on the industry, to gain an advantage. They saw single-use as an opportunity to establish a facility or develop a process in a short timeframe – to get their product to market quickly, or at least advanced enough to sell or license it to somebody else. The large biopharma companies, on the other hand, were more cautious, watching carefully and performing evaluations to assess the potential impact single-use might have on their operations. Recently, I've seen an avalanche of big companies making the transition to single-use in manufacturing – the evaluations are complete and the benefits single-use can offer alongside stainless steel are beginning to shine through.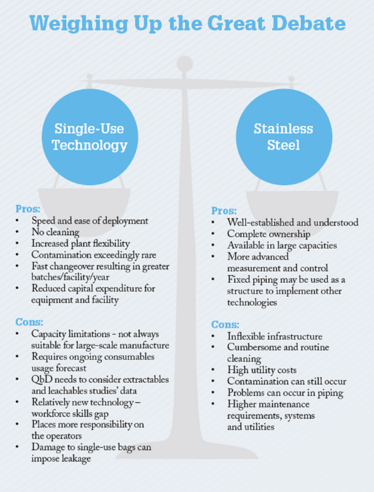 Receive content, products, events as well as relevant industry updates from The Medicine Maker and its sponsors.