Manufacture
Technology and Equipment
The Medicine Maker Innovation Awards
Welcome to The Medicine Maker inaugural Innovation Awards; recognizing the most exciting new technologies of 2015!
Stephanie Sutton |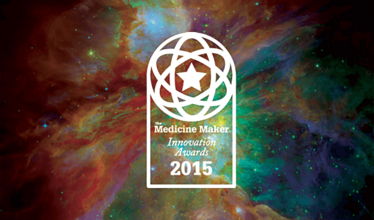 Innovation is the bread and butter of the pharmaceutical industry and influences every aspect of medicine making; innovation is required for drug discovery, for overcoming formulation and drug delivery challenges, for manufacturing, and even for activities long after product approval, such as product marketing and lifecycle management. The Medicine Maker magazine is aimed at those of you who work directly with the manufacture of both small- and large-molecule medicines and we have always strived to put you in the spotlight. However, we also believe that we should not forget the companies and technologies that make medicine manufacture possible – the vendors whose achievements and expertise lie not in developing the latest drugs, but in developing the technologies that make the process possible.
Welcome to The Medicine Maker's inaugural Innovation Awards – where we recognize breakthrough technologies released onto the market during 2015.
How did the process work? Earlier this year, we asked everyone to nominate eye-catching technologies – software, instruments or enabling drug-delivery technologies were all eligible, and indeed we received nominations from all corners of the pharma industry. Those nominations were put to an independent, anonymous judging panel comprising several industry experts, and based on the judges' collated comments and rankings, we scored and compiled the Top Ten innovations of 2015. We welcome your views – whether you agree or disagree with the winners – and note that the Innovation Awards will be back in December 2016!
1. LEO Pharma Open Innovation
LEO Pharma Open Innovation
Exploring the benefit of molecules with an open access research platform that maintains confidentiality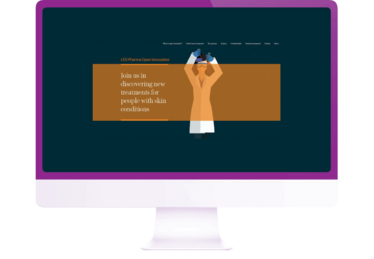 Produced by: LEO Pharma, http://openinnovation.leo-pharma.com/
Potential impact: The LEO Pharma Open Innovation platform hopes to boost explorative collaborations between pharma, biotechs and academia to increase the chances of discovering new innovative treatment opportunities for skin diseases. The aim is to help external partners to understand more about the potential effects of their molecules.
Detail: LEO Pharma Open Innovation is an open drug research platform where research tools are made available to external partners. One of the key elements is that the platform aims to provide mutual benefits for all parties involved. It is a free platform – LEO Pharma tests compounds for free, but the partner will receive full scientific insight into the assays used and will own the produced data. Partners do not have to disclose the structure of their compounds, which helps maintain confidentiality. There are also no contracts – so partners can walk away at any time. The focus is not on business, but on the collaborative creation of scientific data – and the company hopes that the platform will result in new treatment options for patients.
The judges say:
"This platform could make a real difference in assessing the benefits of each molecule far more effectively."
"This is different to other entries in that it focuses more on research than manufacturing – but these awards are all about innovation. And this platform could certainly help boost innovation in a number of areas."
"This is truly innovative and of potential value to society. It could help bring new therapeutic molecules to light."
2. OptiShell Softgel Technology
OptiShell Softgel Technology
Drug delivery flexibility with a non-gelatin based softgel capsule formulation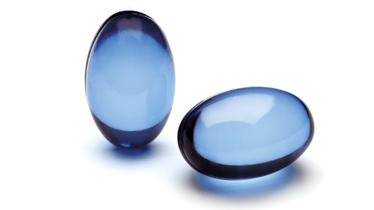 Produced by: Catalent Pharma Solutions, www.catalent.com
Potential impact: OptiShell technology can help formulators to develop semi-solid, monolithic extended-release formulations. The semi-solid matrix can provide an API extended-release profile that can reduce the maximum API concentration in the bloodstream, decrease the dosing frequency and potentially increase patient adherence.
Detail: Softgel capsules can be an effective dosage form for oral drug delivery; however, softgels traditionally use gelatin as the film-forming polymer in the capsule shell, and animal derivatives have several drawbacks. OptiShell softgel technology uses plant-derived polysaccharides that provide formulation scientists with new opportunities that gelatin prohibits; the different physico-chemical and thermo-mechanical properties of OptiShell can be used advantageously for encapsulation of a wider range of fill-formulation types including modified-release and extended-release formulations. In particular, the capsules are well suited for the encapsulation of higher melting point fill formulations. They also have a wide pH range.
The judges say:
"There is a definite need to replace gelatin – and existing technology and formulation compatibility has not really advanced for years."
"A potentially effective solution to help with issues for poorly-soluble drugs."
3. HyPerforma Single-Use Fermentor (S.U.F.)
HyPerforma Single-Use Fermentor (S.U.F.)
Single-use system for large scale microbial fermentation
Produced by: Thermo Fisher Scientific, www.thermofisher.com
Potential impact: Single-use bioreactors can replace stainless steel systems in process development and scale up – as well as in the production of mammalian cell culture – and Thermo Fisher Scientific believes that the single-use fermentor could do the same for microbial fermentation.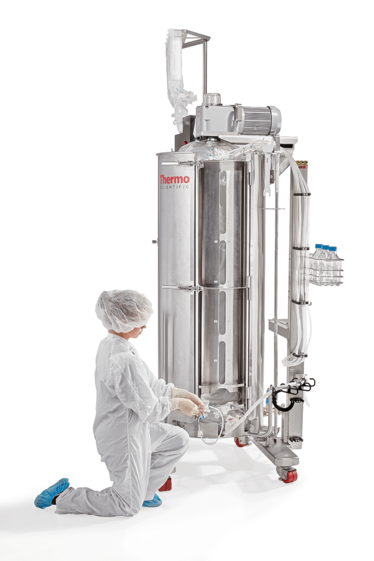 Detail: Large-scale, single-use technology is well established in mammalian cell culture and has become the norm in many cases. However, adoption has been lagging behind for microbial fermentation as the requirements for such a system are more complicated due to the high agitation and gas flow rates. The HyPerforma S.U.F. is engineered for optimal oxygen mass transfer, mixing, and temperature control – and Thermo Fisher Scientific claims that it performs comparably to traditional stainless steel systems. It uses high gas flow rates, powerful agitation, and efficient cooling through a higher vessel surface area to help boost the growth of microorganisms. It has been developed on standard stainless steel fermentation design geometry (3:1 height to diameter, 5:1 turndown ratio) to facilitate scale-up and process development activities.
The judges say:
"Single use technology is becoming more and more well used in the market – and this is a first for fermentation."
4. ConsiGma Coater
ConsiGma Coater
Tablet coating technology for continuous processing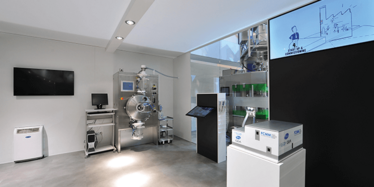 Produced by: GEA Group, www.gea.com
Potential impact: The ConsiGma coater claims to alleviate a number of common tableting issues. By providing more uniform coating of tablets, the coater helps to produce better end quality, as well as less weight gain required to achieve homogeneous coating and fewer issues with rounded-off edges and filled-in embossings. It also offers the possibility of coating hygroscopic, flat or oddly shaped tablets consistently.
Detail: The ConsiGma coater accurately deposits controlled amounts of coating materials onto tablets – even if they are extremely hygroscopic or friable. It has been designed to fit in with the ConsiGma continuous tableting lines, and coats small quantities of tablets at very high rates, offering improved heat and mass transfer. The coater subjects tablets to a cascading movement that enables greater fluid application rates (higher coating build-rates) than traditional coating pans – up to 90 times faster, according to the company. It intensifies the conventional process, by applying the coating more quickly, more gently, and more precisely.
The judges say:
"Continuous processing is a real trend and can lead to key productivity increases. This is a very innovative step for coating."
5. BioSC
BioSC
Low pressure chromatography equipment for the purification of biopharmaceuticals
Produced by: Novasep, www.novasep.com
Potential impact: Novasep claim that the BioSC system can deliver significant OPEX savings – such as reducing resin volume by up to 75 percent – as well as increasing productivity by two- to six-fold compared to batch processing. It is adaptable from lab to industrial scale and is one possible solution to help overcome current downstream processing challenges. The implementation of continuous processing is a big challenge right now in the biopharmaceutical industry.
Detail: This is a flexible and simple solution that allows process developers and manufacturers to switch easily from batch to continuous processing. It can be used in batch, parallel batch, continuous chromatography or continuous process, with any media. Furthermore, it is equipped with simulation and optimization software that allows users to define their objective within the practical constraints and desired strategy (helping to limit the amount of expensive chromatography media, for example). In a few clicks, the optimization algorithms will provide the most adapted operational conditions, such as the number and geometry of columns and flowrates. Operations can be conducted from one column up to six columns.
The judges say:
"This has been designed to be scalable and cost-reduction driven – which is what the industry needs."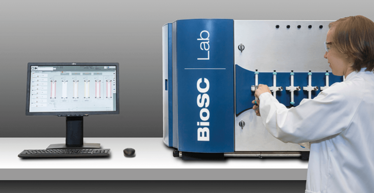 6. Pharma Suite
Pharma Suite
Serialization software for performing track-and-trace activities
Produced by: Adents, www.adents.com
Potential impact: Adents believes that Pharma Suite's high accuracy, deployment speed, cost-efficiency, easy configuration and maximum flexibility are the features that make it stand out from the crowd in a world where serialization is becoming mandatory. It is also fully interoperable, easily scalable and very flexible – designed to meet the ever-shifting needs of pharmaceutical manufacturers and contract packagers.
Detail: Pharma Suite is a user-friendly serialization solution that combines accuracy with fast implementation and user simplicity. It uses standardized turnkey software that is compatible with both information systems, and existing production and packaging equipment. The system performs a variety of track-and-trace capabilities including generation of unique barcodes and importation of serial numbers; affiliations management for origin identification and distribution of various types of serialized code; facilitation and driving of the printing of unity barcodes and controlling their conformity; and data centralization and reports processing.
The judges say:
"Innovation and evolution in serialization solutions will be key to meeting up and coming track-and-trace requirements."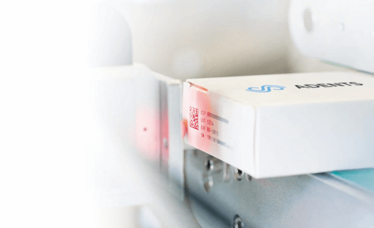 7. ÄKTA pcc
ÄKTA pcc
A benchtop chromatography system for continuous chromatography at process-development scale
Produced by: GE Healthcare Life Sciences, www.gelifesciences.com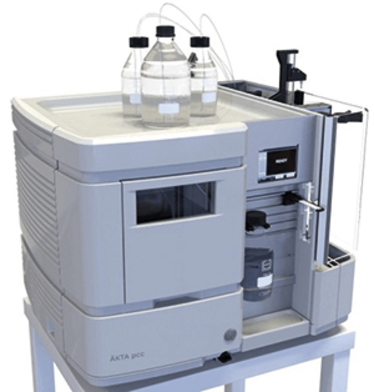 Potential impact: Increasing attention is being focused on continuous processing in the pharma and biopharma industries. ÄKTA pcc has been developed as a continuous chromatography solution for downstream process development, and aims to provide a reduced start-to-finish purification time in order to ensure product quality for unstable molecules. The system supports cost reduction by utilizing media and available space to its full potential, and also allows processes to be easily scaled from development to manufacturing.
Detail: Increase in biomanufacturing titers in response to product demand has created downstream bottlenecks, where traditional batch processing limits throughput and facility utilization. ÄKTA pcc allows for the purification of target molecules in a continuous bioprocess using periodic countercurrent (PCC) chromatography. The technique uses three columns to rotate loading and elution as needed to maintain a continuous process. It also maximizes the use of chromatography media resin, and includes dynamic control functionality for consistent process performance – even under changing conditions, such as variable feed concentrations and chromatography medium lifetime effects.
The judges say:
"There is a rapidly expanding market for this technology – this system is easy to use and could truly boost productivity."
8. PharmaFlex iSeries Deduster
PharmaFlex iSeries Deduster
An efficient deduster for all-around dedusting
Produced by: Pharma Technology Inc., www.pharmatec-inc.com
Potential impact: Tablet dedusting is an intricate end-of-line process that, if performed inefficiently or ineffectively, can significantly eat into overall line efficiency and batch production. The PharmaFlex iSeries Deduster provides efficient, all-around dedusting during operation, cleaning and changeover.
Detail: The deduster operates via a concurrent airflow system and the company claims that it offers a number of advantages over competing systems, such as increased output by up to 20 percent and enhanced resistance to prolonged heat, alcohol and industrial detergents exposure. The materials and design of the system allow dust extraction to take place on the spiral's outer circumference – as close as possible to the path of the tablets. Additional enhancements include enlarged tablet inlet and outlet ports for higher output; enlarged circumferential dust extraction channel for improved dedusting efficiency; a self-regulating vibratory base with accelerometer; clear spiral segments for the complete tower that provide direct sightlines throughout the process; and a tower comprised entirely of Tritan. The spiral tower can be easily exchanged and replaced in under three minutes, and each spiral segment can be removed individually.
The judges say:
"Dedusters may not sound exciting but their role is crucial. Importantly, this deduster offers several enhancements."
9. RAN 3080
RAN 3080
Exterior washing machine for vials, ampules and cartridges
Produced by: Bosch Packaging Technology, www.boschpackaging.com
Potential impact: The goal of the RAN 3080 is to protect employees and patients from contamination. The system helps to eliminate process-related contamination from filled and closed glass containers via a newly developed high-pressure cleaning process.
Details: The RAN 3080 combines efficient cleaning with a transportation system, and allows for residue-free cleaning of up to 400 containers per minute. The transport system grips the containers at the closure, ensuring cleaning of the entire container surface, including the neck. Drying at three stations with pressurized air from ring and bottom nozzles helps to ensure that no residual moisture sticks to the containers. The system also complies with the stringent requirements for manufacturing highly potent pharmaceuticals, such as cytostatic drugs.
The judges say:
"A key solution for increasing user safety, particularly when the industry is seeing more high potency drugs."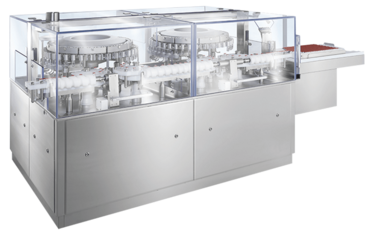 10. BFS Printing Unit
BFS Printing Unit
Printing variable data directly onto blow-fill-seal ampules of varying sizes
Produced by: Hapa AG, www.hapa.ch
Potential impact: Hapa's BFS printing unit is a solution for directly printing on blow-fill-seal containers. Printing directly onto BFS containers eliminates the costs and difficulties associated with embossing, as well as negating the need for labeling – saving production time and further expenses.
Detail: At the heart of the solution is an integrated ultraviolet drop-on-demand printing module called 'redcube' – which allows variable data to be printed onto an ampule's surface. Thanks to the vacuum transport system, the ampules are precision-placed and after printing, the quality of the codes and variable data is inspected with a camera. Those that do not pass the inspection are pulled from production by the rejection station. The redcube is easy to integrate, works with various sized ampules, and can also be used to support a track and trace solution. Two-color solutions are available.
The judges say:
"A great printing innovation that will allow for greater flexibility."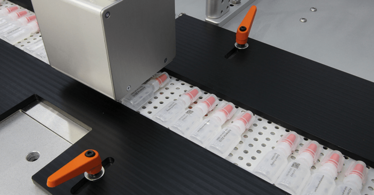 Receive content, products, events as well as relevant industry updates from The Medicine Maker and its sponsors.