Manufacture
Technology and Equipment,
Facilities,
Process Control,
Quality & Compliance,
Small Molecules,
Digital Technologies
Your Digital Twin
Simulation and modeling techniques are fast becoming essential across drug development – including plant maintenance. By simulating processes in a digital twin of a facility, changes can be safely tested before application in the real world. Here, Ronnie Bains, Director of Process Simulation for Europe at Emerson Automation Solutions, dives inside digital twin software for medicine making.
Stephanie Sutton |

This article is part of our special focus on "traditional" pharma: The Small Molecule Manufacturer (read more here). You can find more articles from The Small Manufacturer here.
What is a digital twin?
A digital twin is a software-based representation of the physical assets of a plant, including process equipment, instrumentation and controls, as well as the processes that are taking place within them, such as chemical reactions and fermentation. Some digital twins also allow a predictive view to be taken on complex processes, providing insight into different stages of a facility's lifecycle.
In the life sciences industries, the digital twin is proven and accepted for offline testing of the control system in design/implement/test activities, software and factory integration and the system acceptance testing phases of installation qualification and operational qualification. In addition, a digital twin can be used to provide more effective competency assessment and procedure development.
How does the Emerson Digital Twin software work?
We develop the digital twin using process design information, which includes piping and instrumentation diagrams, process flow diagrams and other data governing the process. This information is then converted and developed into a software-based representation of the process using our Mimic Simulation Software. As Mimic has a wide range of unit objects pre-configured, we can develop models efficiently and ensure they are providing a highly accurate representation of the behavior and dynamics of the process under consideration.
We see the incorporation of both virtual and augmented reality as important parts of the evolution of the digital twin.
Once the model has been built and tested, we then take a copy of the control system configuration and integrate this into the model, which provides a replica of the production system – with an identical operator interface. We then enhance the accuracy of the digital twin with data taken directly from the process as it becomes available.
It's important to note that a number of testing phases occur during execution. We also develop our digital twin using a dedicated cloud infrastructure, which provides great flexibility and scalability. Our digital twin can be developed for any third-party control system and can scale from a specific piece of equipment through to a complete production facility.
How common is simulation and modeling software in the pharma industry?
Typically, simulation is viewed as a discretionary spend in the life sciences industry – mainly due to a lack of awareness and familiarity with how it can bring tangible value quickly and consistently in the manufacturing process.
I see it as our responsibility to get that message into industry and raise the profile of simulation and the digital twin! I'd cite five main benefits:
Reduce the time associated with operational qualification and installation qualification activities through earlier and more comprehensive testing of the process and control system.
Accelerate the process from drug development through to production using the accuracy and engineering support provided by the digital twin.
Enable cost-effective compliance and validation of the process control system, as well as operating procedures.
Provide a platform for operations training and competency assessment.
Allow comprehensive testing and integration of the control system with higher level 3 systems such as an MES. This allows entire campaigns to be designed and planned with zero impact on actual production.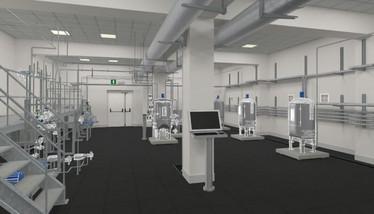 What new features have been most requested by users in the pharma industry?
The ability to use the digital twin to support testing and validation of the process control system is a key request that we've had from our clients in the pharma industry. As a direct response, we developed the test bench application, which provides an automated and documented testing tool to support validation of the control systems and to significantly reduce the time required for installation qualification and operational qualification activities. In addition, we are always enhancing our library of process objects within our digital twin library. One example is the plug flow reactor object, which was released earlier this year.
How do you think modeling and simulation systems will adapt to meet pharma's future needs?
We see the incorporation of both virtual and augmented reality as important parts of the evolution of the digital twin. Virtual reality, in particular, has the ability to vastly simplify training and maintenance activities when dealing with complex pharma processes. An example would be a clean room environment; imagine being able to recreate every step associated with manufacturing a batch of product, including those that require outside operator input, without having to undertake the tasks associated with physically entering a clean environment. In fact, the future is here already! Such VR environments exist, and are made much more powerful with a digital twin integrated and accurately replicating the dynamics and behavior of the process.
We are currently at a point of inflection in the industry. The use of simulation, the momentum around digitalization, and the ever-increasing pressure being placed upon on this industry provides a unique set of challenges. I believe the digital twin is well placed to answer. We see the digital twin as being a central component to achieving top quartile performance within the pharma industry, providing a unique platform on which to support design and testing activities, while reducing risk and enabling the product to get to market quicker.
Receive content, products, events as well as relevant industry updates from The Medicine Maker and its sponsors.