Business & Regulation
Business Practice,
Trends & Forecasts,
Facilities,
Drug Discovery
Biotechs in the Baltic
Snapshots, sketches, and secrets of Lithuania's burgeoning life sciences scene
Angus Stewart | | 12 min read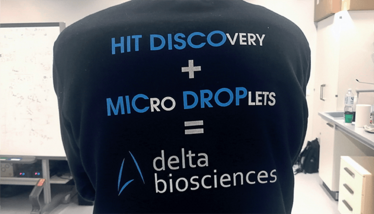 Look up while walking the cobbled streets of Vilnius' old town and you'll start to notice a few recurring flags: the EU's yellow stars on deep blue, the lighter blue and yellow of Ukraine, the LGBT rainbow, and of course the national flag's red, green, and yellow tricolor. All around the medieval capital city I sensed a mood of optimism, despite the fact that during my visit the country was straining to cope with the surge in energy prices triggered by the Russian invasion of Ukraine.
Indeed, the war is rather close to home in Lithuania. One of the belligerents, notoriously illiberal Belarus, is right next door. To the west lies Kaliningrad, a Russian enclave. And yet, where one might expect a mood of doom and anxiety to prevail, optimism abounds. Nevertheless, while listening to speakers at universities and their spin-off labs, independent biotech offices, big pharma boardrooms, and state-funded business-boosting institutions, I got the impression that for the medicine makers of Vilnius, the future is less a fountainhead of threats to be managed and mitigated, and more a site for national rejuvenation, for European (and global) integration, and for a better tomorrow.
So why exactly are the life scientists of Lithuania's capital so upbeat? It's hard to analyze and distill a mood without sterilizing it – but I'll do my best, sketching six sources of Vilnius' good vibrations.
First sketch: a returning diaspora

In 1992, Lithuania's population hit a historic peak of around 3.7 million. Since then, there has been a decline to around 2.8 million today. Similar to many other western countries, there is a declining birth rate. Emigration has been another factor. One factor driving this long-term decline was emigration. From 1990 to 2018, more people were leaving the country than arriving, and the largest bloc of departees tended to be young adults of working age. But in 2019, the numbers flipped – more people arrived than left. During my visit to the drug screening startup Delta Biosciences, co-founder Dominykas Milašius described the trend as one sign of an "ongoing renaissance." Some of his returning compatriots, he said, were coming back from top universities in Cambridge, Colorado, and Geneva to take up leading roles in their motherland.
In the past, young Lithuanian graduates had a tendency to end up in wealthy European countries. Andrius Šliužas, the Key Account Manager for Life Sciences at the government's Innovation Agency Lithuania, told me that the UK was a top choice – thanks to its proximity and the usefulness of the English language. Brexit put a dent in the UK's top spot, but it remained a favorite alongside other wealthy north and western European countries.
Though Lithuania's population may continue to fall (and there is always a possibility that net immigration could revert back to net emigration), the proportion of that population working in life sciences looks like it could grow. At the time of my visit, Innovation Agency Lithuania said that 8,000 people were working in Lithuanian life sciences (up by around 500 since 2019), and that the country was home to 15,000 researchers and scientists. Provided jobs remain available across the country's mixture of indigenous and international pharma and biotech operations, these numbers look set to climb higher still. In Lithuania, there are six universities with life science courses and one in four students in the country is on a STEM course. Lithuania also ranks highly in the EU for its share of young people with a higher education degree, and placed first in R&D collaborations between business and academia.
While we're on the topic of degrees and demographics, I'll also mention that 63 percent of Lithuania's scientists and engineers are women – in fact, that's something of a commonality across much of Eastern Europe, where STEM skews considerably more female than Western Europe. But even in the East, Lithuania's female STEM contingent sit head and shoulders above the rest.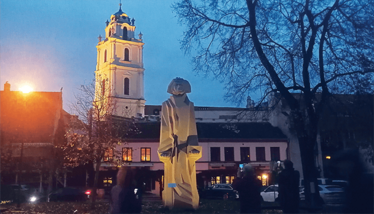 Second sketch: a north that remembers

Russia is not presently a country in vogue among most Lithuanians. Yes, the current conflict plays a part, but there are also historical reasons. At the latter end of the 18th century, the collapse of the Polish–Lithuanian Commonwealth saw a rising Prussia snap up one tenth of Lithuania, while the massive Russian Empire took the rest. Lithuania's modern national identity and struggle for independence were formed under this pressure cooker. The turmoil of the first and second world wars saw Lithuania gain then later lose its independence to Soviet Russia, to Nazi Germany, and then to Russia again as the Lithuanian Soviet Socialist Republic – one of the "national administrative units" of the USSR.
Dissident movements against the Russian-imposed system continued until Lithuania regained its independence in 1990. Thirteen years later, a referendum on entry to the EU saw 91 percent vote in favor of joining, and they got their wish the next year. In that same year (2004), Lithuania joined NATO.
During my visit, Lithuania's distancing from Russia only seemed to be growing deeper. At the time, the Lithuanian government was in the process of maneuvering the country away from a reliance on Russian gas. Since then, the transition has been successfully completed. During my visit, the young scientists and startup leaders I met were not shy about voicing both their worries about rising energy prices, but also their commitment to accepting whatever it would take to sever all undesirable ties with Putin's Russia.
Principles and Aspirations

Lithuania's deepening turn away from belligerent authoritarian states and toward liberal ideals also made itself known during my visit to Vilnius University's Life Sciences Center. During a talk, I noticed a brochure for one National Sun Yat-sen University (國立中山大學), which I mistook for Sun Yat-sen University (中山大学). The latter is a century-old institution in mainland China's Guangzhou, with a beautiful campus that I once walked around. The former, as my Life Sciences Center host pointed out, is located on the southern end of Taiwan. He was eager to elaborate that Vilnius University's efforts to build a relationship with the National Sun Yat-sen University was part of a broader strengthening of ties between Lithuania and Taiwan, a self-governing democracy officially recognized by an ever-shrinking minority of the world's governments, due to a longstanding spat with the People's Republic initially over who is "the real China" and now as to whether Taiwan should be reincorporated into the fold. In 2021, Lithuania chose to establish an informal – but substantial – diplomatic relationship with Taiwan, but at the cost of badly damaging its diplomatic relationship with China. Our host described this as a principled stand that prioritized social values over power and money.
A final and not-insignificant observation on this point: During the trip I noticed that many of my hosts described Lithuania as a "northern European" rather than "eastern European" country. It's a category that casts the state alongside its high-minded, social democratic Scandinavian neighbors across the Baltic while deemphasizing Lithuania's "classic" historical position among the Slavic regions once held, dominated, or aligned with the Soviet Union. I would say the term is "aspirational" rather than a completely accurate description of where Lithuania sits in Europe, but I also understand why this drive towards openness, tolerance, and a Western view of progress feels so important to the life scientists and innovation-instigators of Lithuania.
Third sketch: a startup state

Early in my trip, I was taken to visit not one but two state-funded institutions set up to promote entrepreneurial efforts nationwide – the Innovation Agency Lithuania (born anew from a merger of three predecessor agencies in April 2022, and branded in a conspicuously EU-esque color scheme) and Invest Lithuania (born in 2010, and geared to prioritizing investments from northern Europe, the US, and the Lithuanian diaspora).
Both institutions' settings were slick, and every employee I met was young, friendly, and energetic – though maybe that was part of the show. If they wanted to create the impression that in Lithuania the state and society are backing the sciences, I would say the show was a success. Upon reflection, it might be more accurate to say that the Lithuanian state is boosting and protecting "emerging enterprises" and priority sectors of the economy writ large rather than specifically targeting the sciences, but it is also fair to say that the Baltic state's young biotechs are a major beneficiary of an impressive range of policies.
The first protection available to businesses comes in the form of Lithuania's seven Free Trade Zones, also referred to as Free Economic Zones under the acronym "FEZ." A business that sets itself up in a FEZ enjoys a decade-long exemption from corporate profit tax, followed by six more years at a 50 percent discount tax rate of 7.5 percent. Until 2045, these companies will also be shielded from real estate tax. Foreign players who invest their money into FEZs enjoy one extra benefit – exemption from dividend tax.
Beyond the FEZs, there are a range of other incentives. There is state support for "exceptional large scale investments" in the form of a two-decade tax relief program, a dedicated government coordinator, and fast-tracks through admin and migration protocols. There is a "patent box" initiative too, in which profits derived from IP enjoy a reduced tax rate – many of these exist within the EU, but Lithuania's rate of 5 percent places it as one of the lowest. In terms of special zones specifically friendly to pharma and the life sciences, there is KTU Santaka Valley in the country's second city of Kaunas, and Vilnius' own Sunrise and Santara Science Valleys.
Keep your takings

Even without a 50 percent discount, Lithuania's corporate tax rate of 15 percent is one of the lowest in the EU, as of 2022. Only two countries have a lower rate: Ireland with 12.5 percent, and Hungary with only 9 percent. Like Lithuania, Ireland has a relatively low population of only 5 million, and set its low rate as part of its postwar strategy to "punch above its weight" by attracting foreign investments and – it is often said – serving as a tax haven. Hungary is not generally thought of as a tax haven, but did veto a directive proposed by the EU in January 2022 that would have fixed a minimum corporate tax rate of 15 percent across the entire Union.
Fourth sketch: the big fish

My press trip also brought me right into the lair of the biggest life science corporation operating inside Lithuania. The name of their site, "Thermo Fisher Scientific Baltics," reveals not only the identity of the multinational in question but also the scale and scope of its Lithuanian base, which lies in Vilnius' southwestern reaches. According to executives that I met during my visit, roughly 4 percent of all Thermo's researchers and 2 percent of all Thermo's employees work at the Vilnius site. Not bad for a country with a population the size of Chicago.
Thermo arrived in Lithuania in 2010, but they didn't drop out of the sky and build their base from scratch. Instead, Thermo spent US$260 million buying local biotech Fermentas, a company with its roots in the Soviet era. One can argue that Lithuania's entire biotechnology sector can be traced back to the construction of an enzyme factory in 1971. The USSR had five such factories – three in Russia, one in Kazakhstan, and one in Lithuania. In 1975, the research center built into the Lithuanian factory became the USSR's sole "Institute of Applied Enzymology." After the end of the Cold War, this Institute begat modern Lithuania's Institute of Biotechnology and a number of spin-off companies that still exist today. Fermentas was one such company.
Since arriving in Lithuania, Thermo has become quite enmeshed in the country's life sciences ecosystem, a scene that quite a few of my hosts remarked is a world where "everyone knows everyone". At Vilnius University, there is a Thermo teaching lab area, with easy-to-spot corporate branding and labs kitted out with the best Thermo equipment. Perhaps unsurprisingly, Thermo's executives were delighted to describe how 91 percent of their new hires are university-educated. The company built their presence in the proverbial pond thanks in part to major investments in expanding the floorspace and capabilities of their Vilnius site, but it has also made a commitment – strangely enough – in publishing.
Towards the end of my visit to their site, I was given an English translation of Jędrzej Śniadecki's Theory of Organic Beings, a pretty but rather hefty hardback clocking in at just under 600 pages. It was rather surreal to open up a book that would look at home in any aristocrat's library to find Thermo Fisher Scientific's red and black sans serif logo dominating the copyright page. Nevertheless, the artifact's existence points to what I see as the company's desire to become part of the latest chapter in Lithuania's scientific lineage. Śniadecki was a Polish-Lithuanian scientist and philosopher who made major contributions both to biology and chemistry, and to the scientific ecosystem of historical Vilnius.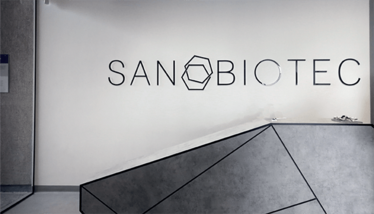 Final sketch: the line goes up

Sometimes the best way to establish yourself as the leader is to play the leader. Innovation Agency Lithuania has done something like this through Life Sciences Baltics, a biennial event pitched as the "only and finest" forum of its kind in the Baltics. But is it fair for Lithuania to play bio-big-brother to Latvia and Estonia? Arguably, yes, say the numbers. According to state figures, life sciences make up 2.5 percent of Lithuania's GDP-creation as of 2022. The Lithuanian government's plan is to see that figure hit 5 percent by 2030. Right now the sector is seeing a year-on-year growth of 22 percent, with biotech in particular shooting forward at a rate that hit 87 percent in 2020. COVID-19 also triggered a rise of its own – work on tools and formulas needed to help combat the pandemic saw Lithuanian life sciences patent applications shoot up from 2019 through to 2021.
While Lithuania's GDP may seem small to those of us more focused on titans like the US and China, it pays to remember that Lithuania is small too. Everything is relative – and in a small country it may also be true that everything is related. During my visit to Vilnius University's Life Sciences Center, I heard its Director, Daumantas Matulis, touch on this point. "Being small has its advantages and disadvantages," he began. "On one hand, we cannot establish a huge support center for our startups. To some extent, they must grow on their own. But on the other hand, being small makes contact and cooperation easier."
As so many of the people on my trip reminded me, the places and people of smaller societies tend to be closer not only in space, but also in their relationships. Perhaps this – more than tax breaks, demographic shifts, and geopolitical anxieties – marks a special quality in Lithuania to which others might wisely aspire.
Receive content, products, events as well as relevant industry updates from The Medicine Maker and its sponsors.