Business & Regulation
Advanced Medicine,
COVID-19
Cell and Gene Therapy: Learning from COVID-19 Vaccine Development
What can the advanced therapy sector learn from COVID-19 vaccine development? We ask winners of The Medicine Maker 2021 Power List.
James Strachan |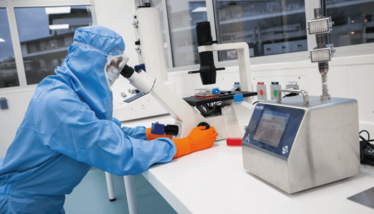 The industry has been praised for the speed at which it was able to develop safe and effective vaccines in the fight against COVID-19, with developers, regulators and healthcare systems all playing a roll. While COVID-19 was an unprecedented situation, it revealed what may be accomplished under the right circumstances. With this in mind, are there learnings that could be applied to the development and commercialization of advanced therapies? With the field on the cusp of cures for solid tumor cancers, for example, how can we create a sense of urgency around the need to bring these therapies to patients that need them?
To find out, we asked winners of The Medicine Maker 2021 Power List in the Advanced Medicine category.
Collaboration is key 
The responses were quite varied, suggesting there's a lot the field could learn from pandemic vaccine development. But collaboration did emerge as a key theme; Evelina Vågesjö, Co-Founder and Chief Executive Officer at Ilya Pharma, thought that close collaboration between the industry and regulators was a crucial factor in the speed of vaccine development. "I hope that this level of collaboration to accelerate development of cell and gene therapy products becomes the new normal," she says.

Miguel Forte also focused on collaboration. Not just between industry and academia, but governments and other stakeholders too. "Development of vaccines for COVID-19 came about at lighting speed because of the alignment of a global need, regulatory support, and political will," he says. "Extensive scientific collaboration and focus to address a significant unmet medical need is a key lesson to extrapolate to the field of cell and gene therapy. The key is to collaborate and combine emerging technologies to deliver what we know is bringing enormous value to patients with still unmanageable conditions."

Claudia Zylberberg, Chief Executive Officer at Akron Biotech, also commented on regulatory developments – and how they relate to the scientific advances made. "Regulators globally were challenged to understand the value and the opportunity to create solutions in a fast and efficient way without compromising safety," she says. "We gained lots of general knowledge about RNA, adenovirus, and so on; the global educational factor on these novel therapeutic vaccines will create an environment of acceptance of new remedies using RNA and DNA more openly." Catherine Bollard, Director at the Children's National Research Institute, also commented on the scientific advances made. "The success of the mRNA vaccine technology for COVID-19, I believe, has huge implications for the cancer vaccine field and ultimately for combination vaccine and cell therapy approaches for cancer and virus infections."

As Director at the FDA Center for Biologics Evaluation and Research, Peter Marks has a unique perspective on the role regulators have played in the vaccine rollout – and what that might mean for cell and gene therapy. He highlighted sponsor-agency interaction – but as part of a holistic approach to product development that also combines manufacturing challenges and clinical development. "This could potentially propel cell and gene therapy product development," he says.
But that's not all...
There were several other aspects of the vaccine development process that our Power Listers noted. "Government support of vaccine research dates back years, and recent influx of funding has spurred the rapid development of COVID vaccines," says Bruce Levine, Barbara and Edward Netter Professor in Cancer Gene Therapy at the University of Pennsylvania. "The success of this development carries lessons for cell and gene therapy field, in that it validates the benefit of long term investment in research." Levine also touched on the importance of a robust supply chain, which gained wide acceptance during mass vaccination campaigns. "In particular, the investment and knowledge gained implementing large scale cold chain logistics will carry lasting benefits for future delivery of cell and gene therapies."

Queenie Jang, ISCT CEO, expanded upon this latter point, commenting on the wealth of real world data that we now have on differing storage, handling and logistics requirements – and how they affect therapy adoption. "This has been especially apparent in evaluating the cold chain requirements for various vaccine candidates. While technically possible, restrictive cold chain and product characteristics (ie ultra low temp storage, stability) will ultimately impact universal adoption," she says. "Worldwide, vaccines that are easiest to transport, store and administer will ultimately have a higher share of the market. Cell and gene therapy development will need to consider these same important market forces, and continue to invest, innovate and improve products to achieve universal adoption."

Finally, Vered Caplan, CEO of Orgenesis, identified six factors that have expedited the development and commercialization of COVID-19 vaccines: i) a closer relationship with regulators, working to identify innovative pathways to expedite clinical trials; ii) more networking and decentralization of supply pathways to make up for increased demand; iii) a huge effort regarding data and information sharing; iv) remote working and more effort on setting up of local teams to make-up for travel restrictions; v) working closer with patients and the medical community to expedite translation of technologies to patients; and vi) advancing manufacturing and technologies related to mRNA technologies, cell lines, and vectors.

"All of the above are extremely important for the cell and gene therapy industry," says Caplan.
Receive content, products, events as well as relevant industry updates from The Medicine Maker and its sponsors.