Discovery & Development
Advanced Medicine,
Drug Discovery,
Bioprocessing - Upstream & Downstream,
Technology and Equipment
Automating Cell Therapy Manufacturing
Fabian Gerlinghaus, CoFounder and Chief Executive Officer at Cellares, believes he can make autologous cell therapy a realistic proposition for solid tumors by closing and automating manufacturing
James Strachan | | Interview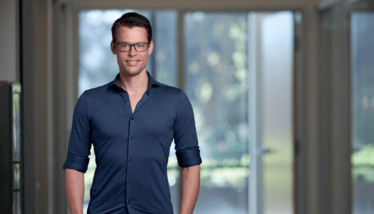 How did you become interested in cell and gene therapies?
I originally trained as an aerospace engineer in Germany. I considered careers in aerospace or robotics, but when I went to the US I became fascinated with life-sciences and genetics. I ended up co-inventing an RNA synthesizer technology, which I then helped commercialize at Synthego, a leading genome editing company. We started with five employees in a garage and grew to more than 230 employees over the course of my five-year tenure. Later in my career I was attending a lot of conferences, and speakers would often talk about the challenges of commercial scale cell therapy manufacturing. In particular, I kept hearing that the industry needed closed and fully automated manufacturing technologies. We thought we could make a difference with our experience in inventing, developing and commercializing new bioprocessing technologies, so we set out to build the most advanced cell therapy manufacturing technology to accelerate access to life-saving cell therapies. This was the birth of Cellares.
How does your technology work?
We are fully automating and closing the entire cell therapy manufacturing process, to enable commercial scale manufacturing in a way that is costefficient, robust and scalable. Current cell therapy processes involve a plethora of different benchtop instruments, each with their own respective consumables. Everything is disjointed and made by different vendors. We're bringing it all together in an all-in-one single-use cartridge, which supports all of the unit operations end-to-end. The entire manufacturing process takes place in one closed tubing set, which itself, is contained within a secondary hardshell that was designed with automation in mind. By closing and automating the process in this way – without compromising on process flexibility – we are radically reducing the risk of process failure due to contamination or operator error, while also pushing down costs.
Could closed and automated manufacturing tech benefit therapies for solid tumors?
We are looking at the prospect of treating hundreds of thousands of patients per year, per drug. Those kinds of numbers simply aren't possible with current manual processes. Our modular manufacturing platform, the Cell Shuttle, is essentially a factory in a box. It contains all of the required bioprocessing instruments inside a robotic workcell that maintains an ISO 7 cleanroom internally. Inside the Cell Shuttle, the robot moves single-use cartridges from one instrument to the next in accordance with the process you previously designed in software. Importantly, you can load 10 single-use cartridges and execute up to 10 autologous or allogeneic processes simultaneously. This is an order of magnitude improvement in throughput! By combining end-to-end automation with an order of magnitude improvement in instrument throughput, Cellares enables cell therapy manufacturers to meet commercial scale patient demand and overcome this manufacturing bottleneck. We're seeing that closed and automated technology can bring down manufacturing costs by up to 70 percent for autologous cell therapy manufacturing workflows. I genuinely believe our technology will benefit therapies for solid tumors by enabling cost-efficient manufacturing of hundreds of thousands of doses per year, per drug.
Where do you stand on the "allo versus auto" debate, particularly with regard to solid tumors?
I've discussed this question with our advisor, Carl June, and I think we're on the same page: there's going to be a place for both autologous and allogeneic cell therapies. Of course, one of the main drivers for allogeneic therapies is the autologous scalability issue. We think that closed and automated technology can shift the balance here by making autologous more scalable and cost-efficient.
Which therapy approaches do you think are most promising?
I will leave it to the clinical experts to comment on therapeutic approaches, however we are obviously impressed by those of our partners PACT Pharma and Poseida Therapeutics. PACT Pharma is working on neoTCR-T cell therapies, which I think have tremendous potential, and Poseida Therapeutics has a very strong pipeline with both autologous and allogeneic CAR T-cell therapies.
This article was published in the August issue of The Medicine Maker as part of a special feature on solid tumors. Read more about the topic here.
Receive content, products, events as well as relevant industry updates from The Medicine Maker and its sponsors.