Discovery & Development
Analytical Science,
Bioprocessing - Upstream & Downstream,
Technology and Equipment,
Trends & Forecasts
The Cutting Edge of Biopharma Analytics
How can new analytical tech help biopharma manufacturers? We speak with one of our Innovation Award runners up
Angus Stewart | | 7 min read | Interview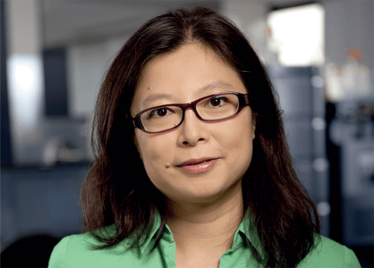 Ying Qing Yu is Director, Biopharmaceutical Sciences, in the Scientific Operations Department at Waters Corporation, whose BioAccord System with ACQUITY Premier device won a runner up spot in The Medicine Maker 2021 Innovation Awards.
The system is designed to solve the prime problems of cost and complexity faced by all biopharma companies taking a crack at liquid chromatography-mass spectrometry (LC-MS) adoption. In this interview, Yu runs us through both the workings of the technology and its place in the wider context of mass spectrometry for biopharmaceutical companies.
What makes your work exciting?

I lead a group of scientists that develop new and innovative LC-MS analytical solutions to improve the safety and efficacy of biotherapeutics. The work we do is exciting because the biopharma industry we support is always evolving and always growing. Biotherapeutics have a huge positive impact on people's lives, and I know that improving the health and wellbeing of mankind is the best way for me to apply my expertise and knowledge.
In a nutshell, what does the Waters system do?

The BioAccord LC-MS – which is controlled by our compliance-ready software, waters_connect – is an integrated, benchtop LC-MS system. It consists of an ACQUITY Premier UPLC system and an ACQUITY RDA time-of-flight mass detector. The system includes optical detectors for tunable UV and fluorescence that are in-line with the mass detector, and embedded SmartMS technology, which automates setup and self-diagnosis, lowering the usability barrier for non-expert MS users.
It's suitable for late-stage drug development, process control, and quality control (QC) settings in both regulated and non-regulated environments for intact protein, released glycan, and peptide monitoring applications.
How were you involved in the development of the system?

For the development of BioAccord LC-MS System, I led a team of biopharma application scientist from the very early stages of the project. Along with the rest of the team, we were very involved in all the major milestones of the project: the drafting of the user request documentation, the alpha and beta system testings (to which we invited external biopharma thought leaders), commercialization, pre- and post-launch application development, marketing, and customer support.
What's the origin story of the system?

A few years ago, when Waters was developing its next generation LC-MS systems, we examined the needs of the biopharmaceutical industry. From FDA reports, we learned that almost every BLA filing contains mass spectrometry data. The key product attributes measured with MS have increased every year over the past two decades. Though we found examples of LC-MS for QC use, LC-UV was predominantly used for product release testing. We wanted to understand the reasons why QC labs were reluctant to use mass spectrometry for release testing, so we conducted hundreds of interviews with industry scientists.
We found that the top six criteria for LC-MS system deployment in the QC labs are: robustness, assay-to-assay reproducibility, ease of use, small footprints, integration, and compliance-ready informatics with a streamlined workflow.
We wanted to understand the reasons why QC labs were reluctant to use mass spectrometry for release testing.
Equipped with this information, we assembled a cross-functional team (of which I was a part of) to develop the BioAccord system, which we successfully launched in 2019. At the same time, we were working on the development of a new chromatography surface technology for the ACQUITY UPLC that minimizes non-specific interactions between the metal surfaces of the LC and a variety of molecules, such as oligonucleotides, phospholipids, acidic peptides, and glycans. This latest LC surface enhancement goes under the trade name MaxPeak High Performance Surface (HPS) technology, and it was commercialized in 2021 with the introduction of the ACQUITY Premier LC for the BioAccord System.
The BioAccord system features what we call SmartMS technology. The system has a color-coded front panel display showing the system status. When the status is green, it indicates that the system is either ready to go, or running an analysis. When it is orange, it signals that the system may need to be checked for minor issues. If it is red, it indicates that it may be time for a service call.
The system's software automatically checks the performance of the BioAccord system between injections by checking system performance with reference standards, including the MS peak resolution, the absolute and relative MS response, and the mass accuracy. This automatic system monitoring process is designed to make sure that the system performs to specification, and to ensure that it adjusts system settings accordingly.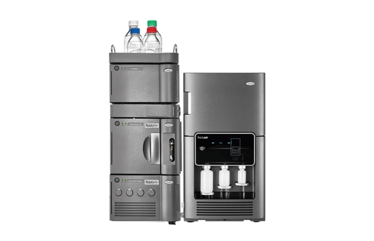 What specific challenges can the system solve?

The system is easy to use and maintain, and is designed for non-expert MS users. It is a compliance ready, high-performance system that can be deployed in both regulated and non-regulated environments for the routine analysis of a variety of biotherapeutics (protein, peptide, glycan, oligonucleotides and cell culture media).
In 2021, Waters Corporation and Sartorius entered into an agreement to work together and bring LC-MS into the upstream bioprocessing laboratory, where there is a real need for both an at-line product and process quality attribute analysis. Today, it can take 2–4 weeks for bioprocess engineers to receive results from a core analytical laboratory on samples taken from a bioreactor (e.g., a full plate with 48 samples). This slows down the clone selection process considerably. The BioAccord System, however, can generate the same information in a matter of hours.
This is an ideal application for the system, where those responsible for bioprocess development needn't be mass spectrometry experts, and where the information provided by LC-MS can make a difference in deciding the best cell line and clone for expressing a biotherapeutic, for monitoring product attributes of the drug, and for monitoring cell culture media.
What are the main challenges faced when developing analytical systems?

Correctly understanding user requirements and defining the right product requirements are some of the biggest challenges. Engineering teams can come up with innovations, but understanding what a fit-for-purpose system looks like and which improvements customers value most is critical. Developing complex analytical systems involves several large teams, and this in itself is another challenge. Nobody ever said that getting large teams of electrical, mechanical, software, quality, test, and system engineers plus chemists, service teams and applications support teams to work toward a common goal was easy!
Why is it important for companies to keep apace with changes in technology?

It is understandable that many companies want to stick with older systems, despite advancements made in analytical technology. Their most likely reason for this is the disincentive of upfront capital equipment costs. Another consideration is the time and effort demanded by the validation of new methods.
However, there are good reasons for laboratories to pursue upgrades. If new technologies can improve analytical throughput effectively, or measure multiple critical quality attributes of a drug product from a single LC-MS assay, or measure the product attributes of new modality therapeutics during development, then the long-term benefits of upgrading to the newest, state-of-the art analytical technologies will easily outweigh the initial burden of installation and training.
How will analytical technology continue to evolve?

Over the next decade we'll see two main areas of improvement. One is on advancing high resolution mass spectrometry technology, enabling the mass measurement of very large and complex molecules accurately. For example, charge detection mass spectrometry (CDMS) for the analysis of very large molecules holds a great deal of exciting potential. The second area is to continue to improve ease of use forLC-MS instruments for the routine measurement of different modalities. Lowering the skill barrier for LC-MS operation, and data processing would help to improve laboratory productivity.. I would like to see improvements in integrated informatics systems that are optimized for automatic workflow-driven data acquisition, processing, reporting, and sharing. Advances here would facilitate faster and more accurate decision-making and lower the development costs of biotherapeutics.
Nominations are open for 2022 Innovation Awards

Time flies, doesn't it? As we send up a cheer for our 2021 winners, it's already time for you to start nominating our 2022 winners! Nominations for The Medicine Maker 2022 Innovation Awards are open.
We'll consider all types of technology and equipment for the awards, provided they have been commercially released or are due for commercial release in 2022.
Nominations close on October 21, 2022.
Receive content, products, events as well as relevant industry updates from The Medicine Maker and its sponsors.