Discovery & Development
Advanced Medicine,
Business Practice,
Drug Discovery
What's New from the Cell + Gene Curator?
Gene therapy's "single most remarkable achievement," CARs for solid tumors and plenty of new collaborations… What's new from the Cell + Gene Curator?
James Strachan |
There have been some big moments for the gene therapy field – China's approval of Gendicine in 2003, uniQure's European approval in 2012, and Lexturna in 2018... But it would be difficult to top the moment that kicked everything off: at 12:52pm, September 14, 1990, Ashanti DeSilva became the first person in the world to receive a gene therapy (1). DeSilva was then four years old and had been diagnosed with adenosine deaminase (ADA) deficiency, a form of severe combined immunodeficiency disease (SCID).
Over the first six months following treatment, DeSilva T-cell count increased and she quickly tested at normal levels. Her health took a remarkable uptick over the following two years. But with no selective advantage, the small number of transfected T cells were unable to form a stable population and eventually died. However, DeSilva exhibited no noteworthy side effects and grew up normally into adulthood. The trial showed that gene therapy could be safe and effective – though, in this case, not curative.
In May, scientific attention returned to the ADA-SCID field with what Fyodor Urnov, Professor and CRISPR researcher at the University of California, described as "The single most remarkable achievement of the gene therapy field since it started in 1989" (2). Donald B. Kohn and colleagues treated 50 patients with ADA-SCID with an investigational gene therapy composed of autologous CD34+ HSPCs transduced ex vivo with a lentiviral vector encoding human ADA (3). Overall survival was 100 percent up to 24 and 36 months. And of the 50 children, 48 are no longer showing symptoms of ADA-SCID.
Bravo to everyone involved in the work! And special congratulations to Kohn, who this week was awarded the ISCT Career Achievement Award in Cell & Gene Therapy (4) – the Society's highest honor.
"He developed the first successful hematopoietic stem cell gene therapy, for children with 'bubble baby disease' – ADA deficiency – and has now functionally cured over 50 children," said Jan Nolta, UC Davis. "The entire field seeks to build upon his success in these trials and he is highly deserving of this award."
And from clinical successes to, hopefully, a glimpse into the future… a gene therapy has prevented learning and memory loss in a mouse model of Alzheimer's disease (AD), according to research from the University of California San Diego School of Medicine (5). The researchers used a viral vector to introduce synapsin-Caveolin-1 cDNA into the hippocampus region of three-month-old transgenic AD mice. Caveolin-1 is a scaffolding protein that builds cell membranes; when it decays, it causes cell dysfunction and neurodegeneration.
"These results suggest SynCav1 gene therapy is an attractive approach to restore brain plasticity and improve brain function in AD and potentially in other forms of neurodegeneration caused by unkown etiology," wrote the authors (6).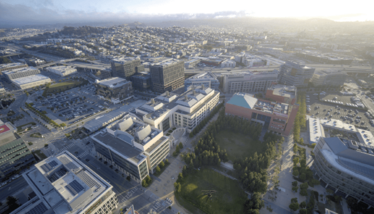 This is an aerial of the UCSF Mission Bay Campus. Credit: Matt Beardsley/UCSF (PRNewsfoto/Thermo Fisher Scientific)
Cracking solid tumors
Many people have spoken about the shift, following the first CAR-T approvals in 2017, from questions of scientific efficacy to manufacturing and commercialization – how do you scale a personalized, autologous, cell therapy? Will the industry shift to a more decentralized manufacturing model? And how will payers afford the often very expensive one-off costs? Several years later, many of these questions remain unanswered. But it seems we're witnessing a return to questions of scientific efficacy – specifically, how can we crack solid tumors?
Last year, University of Pennsylvania researchers genetically engineered macrophages to kill solid tumors in both mouse models and human samples (7). Then, in March, Carisma Therapeutics, a company founded by researchers at the University of Pennsylvania, announced that it had dosed its first human participant in a phase I clinical study assessing the safety of CAR macrophages (8). A review of recent developments in CAR-macrophage-based treatments for solid tumors from Anhui Medical University, China, researchers cited "great potential" – with issues around cell proliferation and migration (9).
In April, the University of California San Francisco published two papers on their "SynNotch" system. In the first paper, they found that SynNotch-CAR-T cells could completely clear human patient-derived tumors from the brains of mice – safely and without recurrence (10). In a second paper, another set of researchers showed how components of the system can be switched out to target other cancers, such as ovarian and lung (11).
The new approach has two-steps. The first step uses synNotch to give CAR-Ts the ability to carefully "judge" if they are in a tumor or not; the second step uses a different set of synNotch sensors to ensure a strong tumor-killing response. "These findings address all critical challenges that have been in the way of developing immunotherapies for patients who suffer from these cancers," said Hideho Okada, co-author of the first paper. "This science is ready to move towards clinical trials."
Collaboration is key
A cross-industry alliance between Astellas, bluebird bio, Bristol Myers Squibb, Kite (a Gilead company) and Novartis called the Cell and Gene Collective launched in May. Their (collective) aim is to increase awareness and understanding of cell and gene therapies in the UK. Earlier this year, we spoke with Roudie Shafie, Director at OVID Health (which is acting as secretariat and coordinating the efforts of the Collective) about the project (12). And we spoke with Anita Ralli, Chair of the Collective and Associate Director Government Affairs at Gilead Sciences, to find out why collaboration is so important for cell and gene therapy.
"To date, the UK has been pioneering in adopting cell and gene therapies to transform the lives of people with devastating diseases, such as end stage cancer," she said. "However, as the science develops and these technologies are applied to a greater number of conditions, new models of care will need to be developed and potentially new ways of accessing value established. Through sharing our experience across companies, we hope to be constructive partners to the NHS and other stakeholders in helping ensure people in the UK continue to be among the first to access the innovation these therapies represent."
In further collaboration news, Thermo Fisher Scientific and the University of California, San Francisco are working together on a cell therapy manufacturing and collaboration center. Set to open in 2022, the 44,000-square-foot facility will be located on UCSF's Mission Bay campus (13). We reached out to Mark Stevenson, Executive Vice President and Chief Operating Officer of Thermo Fisher Scientific, to find out more.
"Emerging biotech companies are doing a great deal of innovation in the cell-based therapies space, but they often face challenging timelines and milestones to support their programs," he said. "Cell-based therapy developers will also have the opportunity to integrate high-quality materials, instruments and pre-configured workflows designed to scale up development and accelerate commercialization and manufacturing. Ultimately, this new facility will help more cell therapies progress through the pipeline to deliver transformative medicines to patients."
R&D Eye Alliance. BlueRock, FUJIFILM, and Opsis also entered into a strategic R&D alliance in May to discover cell therapies for eye diseases (14). The companies have their sights set on off-the-shelf iPS cell therapies for age-related macular degeneration and inherited retinal diseases. Under this agreement, BlueRock has the option to exclusively license three retinal cell therapies currently in pre-clinical development from both parties.
Finally, we return to solid tumors: MD Anderson and Refuge Biotechnologies are working together on engineered TILs and CAR T-cell therapies for solid tumors (15). MD Anderson will apply Refuge's cell engineering platform to its TIL programs, and the companies will co-develop Refuge's RB-340, a HER-2 targeted CAR T.
"It is my belief that TILs are poised for a significant impact in the field of cancer therapy, and engineering improved TILs is a vital part of advancing this modality," said Jason Bock, Vice President of Therapeutics Discovery and Head of Biologics Development at MD Anderson.
Meet The Curator
How did the Cell + Gene Curator come about?
I joined Texere Publishing and The Medicine Maker magazine around five years ago. Back then, we were thinking in terms of small molecules and biologicals, which included cell and gene therapies. Now, given the rise of CGT, we see the pharma industry as a triad: small molecules, large molecules, and advanced therapies. We realized when looking for content for our Upfront news section that there were more CGT-related stories – be it new facilities being built, clinical updates, early-stage research or new collaborations – than we knew what to do with. I remember someone asking the question: wouldn't it be useful if someone just collated – or curated – all the most interesting stories each week? This was the genesis of The Cell + Gene Curator.
So, what exactly is The Cell + Gene Curator?
The idea behind The Curator is to deliver the week's cell and gene therapy news – the latest discoveries, process innovations, and business deals – into a five-minute read. It's aimed at professionals working in the cell and gene therapy sector. But we also want the Curator to be a hub for the community – somewhere to share ideas and opinions in addition to curating all the business and scientific updates. So I'm always keen to shine a light on the big issues facing the field, as well as reaching out to the individuals behind the news of a new manufacturing facility or new class of CAR T-cell therapy.
How do you keep up with all the developments in cell and gene therapy?
It's easier said than done! I have a long list of sources that I check throughout the week – filing away anything that sounds interesting before whittling the stories down to the top 15 or so that make it into The Curator. But I find the easiest way to keep up with all the developments is to speak with people. I spend a lot of time reaching out to my network in the field to make sure I've got my ear to the ground. And we're frequently developing longer-form CGT-related pieces for The Medicine Maker, which are usually based on interviews – and that's an excellent way to keep up with what the experts and pioneers in the field are thinking (or worried!) about.
This article is based on a selection of the breakthroughs that have recently been featured inThe Cell + Gene Curator – a weekly newsletter covering the latest news and research in the cell and gene therapy space. Subscribe for free at: https://www.texerenewsletters.com/cellandgene
Receive content, products, events as well as relevant industry updates from The Medicine Maker and its sponsors.
GEN, "Making History with the 1990 Gene Therapy Trial" (2016). Available at: https://bit.ly/2Tiphee
Twitter (2021). Available at: https://bit.ly/3hOUMqu
DB Kohn et al., "Autologous Ex Vivo Lentiviral Gene Therapy for Adenosine Deaminase Deficiency," NEJM (2021). PMID: 33974366
ISCT, "Congratulations to the 2021 ISCT Award Winners" (2021). Available at: https://bit.ly/3bXisoW
S Wang et al., "Synapsin-caveolin-1 gene therapy preserves neuronal and synaptic morphology and prevents neurodegeneration in a mouse model of AD," Mol Th, 21, 434-450 (2021). PMID: 33981778
Eurekalert, "Gene therapy in alzheimer's disease mouse model preserves learning and memory" (2021). Available at: https://bit.ly/3wzSijT
M Klichinsky et al., "Human chimeric antigen receptor macrophages for cancer immunotherapy," Nat Biot, 38, 947-953 (2020). DOI: 10.1038/s41587-020-0462-y
PR Newswire, "CARISMA Therapeutics to Present Data at The American Association for Cancer Research Annual Meeting" (2021). Available at: https://prn.to/3bTkh68
Y Chen et al., "CAR-macrophage: A new immunotherapy candidate against solid tumors" (2021). Available at: https://bit.ly/2RRto0r
JH Choe et al., "SynNotch-CAR T cells overcome challenges of specificity, heterogeneity, and persistence in treating glioblastoma," Sci Trans Med, 13, 591 (2021). DOI: 10.1126/scitranslmed.abe7378
A Hyrenius-Wittsten et al., "SynNotch CAR circuits enhance solid tumor recognition and promote persistent antitumor activity in mouse models," Sci Trans Med, 13, 591 (2021). DOI: 10.1126/scitranslmed.abd8836
The Medicine Maker, "Spreading the Cell and Gene Word" (2020). Available at: https://bit.ly/3hX6I9O
PR Newswire, "Thermo Fisher Scientific and University of California, San Francisco to Open Cell Therapy cGMP Manufacturing and Collaboration Center" (2020). Available at: https://prn.to/2SylxF6
Bluerock, "BlueRock Therapeutics, FUJIFILM Cellular Dynamics, and Opsis Therapeutics Enter into a Strategic R&D Alliance to Discover and Develop Cell Therapies for Eye Diseases" (2021). Available at: https://bit.ly/3uo8HGr
MD Anderson, "MD Anderson and Refuge Biotechnologies collaborate to advance next-generation cell therapies for treatment of solid tumors" (2021). Available at: https://bit.ly/3bWLFQQ