Manufacture
Advanced Medicine,
Technology and Equipment,
Technology and Equipment,
Quality & Compliance,
Bioprocessing - Single Use Systems
Brave New Factories
Cell therapy successes have got the industry talking, but the future of the field now lies in the hands of manufacturing specialists who must develop factories capable of meeting high demands.
Brian Hampson |
Cell therapy is hotter than it's ever been. Real successes are being seen in clinical trials – with some patients being completely cured of cancer – and it's an exciting time for the industry. But successes to date have only been possible in a very small number of patients. How can we make these therapies more widely available?
By training, I'm actually an electrical engineer. My career began in the field of conventional automation and instrumentation, but I soon became involved with specialized biotechnology instruments, such as bioreactors, for the manufacture of recombinant proteins. From there, I moved into cell therapy manufacturing systems and I've never looked back. That was a little over 20 years ago when "cell therapy" and "manufacturing" were not yet part of the lexicon. Today, I primarily focus on patient-specific cell therapy, where cells for an individual patient are processed one batch at a time. Ten years ago, people told me that I was wasting my time because making separate batches of a therapy for each patient would never fit the classic big pharma business model. Everybody thought that allogeneic therapy – bottles of preserved cells that could be taken like pills on a shelf – would forever be in the future. Today, however, clinical data in support of patient-specific therapy are compelling, so the onus is now on manufacturers to help make these therapies on a larger scale. We will be able to achieve this. The cell therapy field is still very new, but the choices that technology gives us today are already much greater now than they were even five years ago – and tomorrow's factory will be even more different.
Automating the future
The concept of Quality by Design is well known in pharma, but when dealing with cell therapies I like to talk about 'development by design'. There are four criteria that are a must for successful cell therapy manufacture: consistently high product quality, reasonable cost of goods, the production of quantities that meet demand, and sustainable capability throughout the commercial life of a product. It's easier to do this if you think about manufacturing at an early stage.
Most cell therapies today are manufactured in cleanrooms, but I believe that closed systems will be the way forward in the future. Closed systems mitigate the risks of cross-contamination and therefore allow concurrent processing of multiple batches, which gives enormous savings in terms of facility efficiency as well as labor costs. Remember – every one hour of labor saved in a patient-specific process is one hour saved on every single dose you manufacture (as each batch is made for one patient). By contrast, if you save one hour of costs in a large-scale bioreactor process that is making a product for 10,000 patients, the cost savings per person will be that one hour's cost divided by 10,000.
Moving away from manual labor means that automation and integration will play a big role in the factory of the future. I sometimes use the personal computer analogy. Computers used to be massive because all the different functions were in separate modules, but the functions have been progressively integrated into smaller, unitary pieces of equipment so that a personal computer today takes up very little space. The same thing will happen in cell therapy manufacture; all the different steps involved in cell therapy will one day be integrated so that a single, closed unit can execute multiple operations.
Another aspect of the factory of the future will be the automation of data collection and management. Paper-based systems will be eliminated and all information management will be electronic, including the tracking of cells to avoid the risk of the patient receiving the wrong cells (which could be life threatening). Currently, however, humans conduct visual comparisons of labels at different steps in the process, to ensure a chain of identity back to the patient is maintained. This manual system works when you are manufacturing product for two or three patients per week, but once you are making thousands of patient-specific batches per year, the risk for confusion between batches escalates substantially. The factory of the future will manage those risks using machine-readable technologies such as bar code systems or RFID.
As a case study, if you look at the BLA files that Dendreon submitted to the FDA for their first cell therapy – Provenge – you'll see a three-year gap between the first submission and approval, which was caused, at least in part, by Dendreon needing to implement an electronic laboratory information management system (LIMS); the FDA was concerned about the potential to mix up cell samples for QC testing. The concern was based on the fact that Dendreon would be operating at 10 times the scale of the clinical trial, which increased the risk of mixups substantially.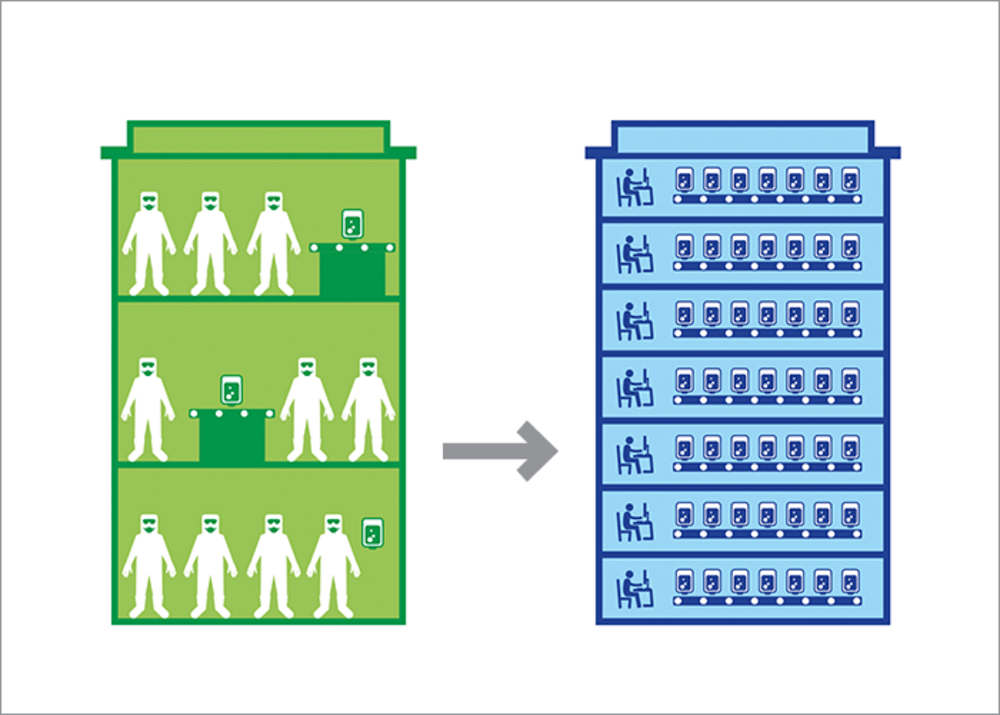 At some level, each company's cell therapy process will be unique, but there are also many commonalities.
Look before you leap
Some companies still fail to look beyond science and clinical need. In the most heart-breaking of cases, clinical success is followed by commercial bankruptcy. When a company is focused on clinical trials, it's common to put off thinking about commercialization aspects, such as cost of goods, scale up, or sustainability of the supply chain. I call it the Scarlet O'Hara (or Gone with the Wind) syndrome – "I'll think about that tomorrow." Unfortunately, tomorrow can be too late, particularly with cell therapies. Traditional biopharmaceutical medicines are known for their complexity, but cell therapies are even more difficult. If you address manufacturing needs too late and then find that you need to change the process to make it economically viable, you face a huge risk with regard to comparability of products made by the original and new processes. You don't want to have to change the process to ensure profitability only to find that you must repeat your clinical trials.
It's important to perform a strategic manufacturing assessment by reviewing the business goals for your product and identifying areas that can be invested in immediately, and areas where investment can be delayed. For example, perhaps risks can be managed by creating a manual process that will suffice for the time being, but is readily automated with low comparability risk later on. This means that you can put off investing in commercial technology until you're confident that the product works.
At some level, each company's cell therapy process will be unique, but there are also many commonalities. When it comes to personalized cell therapies, there are typically three general pieces to the process. First, you take a sample from the patient and isolate the cells of interest. Second, you expand or transduce those cells (or both) to transform them into cells that can have a clinical effect. Third and final, you wash and formulate the cells so that they are ready for clinical use. Each part of the process may be relatively simple or very elaborate depending on the therapy. When I'm working with a client, I perform a technology landscape analysis to identify all the available technology that's relevant to the situation. It's not necessary to re-invent the wheel, so if we can find something suitable in the market then we'll bring it into the process. However, available technologies have not addressed all needs in cell therapy manufacture, which is why we've been developing our own programmable cell processing system that incorporates automation, integration, and closed system design. There are a certainly a lot more cell therapy manufacturing systems available today than there were 10 years ago, and given the recent interest in clinical success stories, I think vendors now know that there is a big market opportunity to develop and market cell therapy manufacturing systems. I hope we see more systems focusing on a closed design and built on automation and integration.
One area where I'd also like to see further development is in bioreactor design for culture steps, most often needed to expand cells to the required dose. Historically, bioreactor design has focused on the needs of large-scale culture of mammalian cell lines that are at the heart of the biotech industry (e.g., hybridomas to produce monoclonal antibodies, CHO cells to produce recombinant proteins). For patient-specific therapy, the needs are quite unique and challenging: dealing with the inherent batch-to-batch culture variability of primary human cells, harvesting the cells as the product instead of what the cells secrete, working with very small process scales (clinical scale and commercial scale are the same small scale – one patient), and automation of steps that have previously not made sense to automate such as priming, inoculating, and harvesting of the bioreactor. Several companies are starting to innovate in this field, such as GE Healthcare and Miltenyi.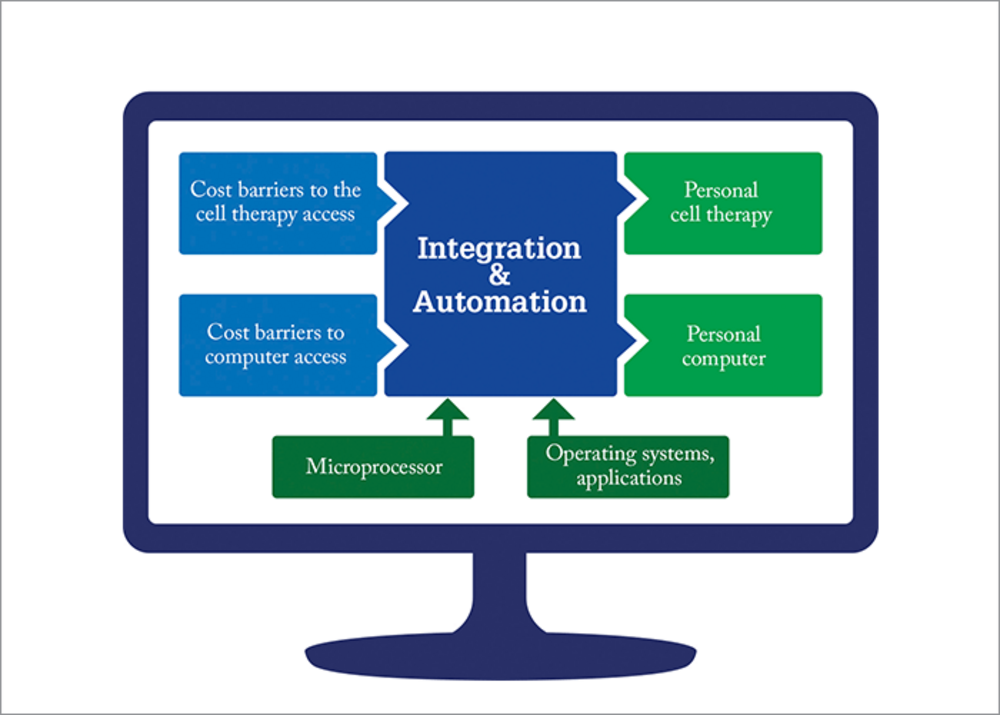 Out of the dark ages
As cell therapy takes flight, I expect to see a degree of chaos in some quarters as traditional pharma and biotechs discover that they must think very differently about manufacturing. A couple of years ago, I attended some talks on manufacturing execution systems. Pharma companies were talking about 'right-first-time' manufacturing, 'just-in-time' manufacturing and 'E-pedigree' systems as though they were brand new, but I've been doing those things for 20 years! If you're making an autologous cell therapy, then you have to manufacture it "right first time" otherwise the patient doesn't get treated. And it's also just-in-time manufacture in the sense that you can't make it until the patient is ready and you obtain the starting material from them; and E-pedigree is necessary to ensure that we can track the product from the starting material all the way to the patient. Traditional pharma companies that want to get involved with cell therapies have a lot to learn. There are people out there with the necessary skill sets, but I think we need more of them if the field is to really flourish.
We are certainly on the brink of a new era of medicine. I look back 10 to 15 years ago and, in retrospect, perhaps see the dark ages of cell therapy, when there was much hype and hope, and then the sinking realization that developing and commercializing cell therapies was very difficult. Today, it's clear that cell therapies can be made and that they can extend life or improve quality of life in clinical trials. It's going to take time before cell therapies are more widely used, but I believe that time is coming – and that's why we need the factories of the future.
Brian Hampson is Vice President of Global Manufacturing Sciences and Technology at PCT, a subsidiary of Caladrius Biosciences, Allendale, NJ, USA.
Enjoy our FREE content!
Log in or register to gain full unlimited access to all content on the The Medicine Maker site. It's FREE and always will be!
Login
Or register now - it's free and always will be!
You will benefit from:
Unlimited access to ALL articles
News, interviews & opinions from leading industry experts
Receive print (and PDF) copies of The Medicine Maker magazine
Register
Or Login via Social Media
By clicking on any of the above social media links, you are agreeing to our Privacy Notice.
About the Author
Brian Hampson