Manufacture
Trends & Forecasts,
Technology and Equipment
ECOnti: Sustainable Steps Towards Continuous Processes
How Tosoh Biosciences is contributing to a fascinating project on a mission to develop a continuous production process using Escherichia coli
| 7 min read | Technology
sponsored by Tosoh
The Austrian Research Promotion Agency (FFG) is helping make continuous biomanufacturing a reality by funding the ECOnti project – an ambitious initiative that aims to develop an accelerated, low ecological footprint manufacturing platform for continuous production of biotechnological products.
Austrian company enGenes Biotech – an expert on producing recombinant proteins in microbial expression systems – is leading the project but it also has assistance from other experts, including Tosoh Bioscience and the Institute of Bioprocess Science and Engineering (IBSE) at the University of Natural Resources and Applied Life Sciences (BOKU). In addition several SMEs (spin-offs from BOKU and the Technical University of Graz, e.g. companies Novasign, SimVantage, Qubicon) have joined the project and added expertise in process modelling and automation. Over the next two years, the ECOnti consortium of experts will develop a continuous production process using E. coli.
Here, Sebastian Thürmann, Product Manager for Multi-Column Chromatography at Tosoh Biosciences, and Rainer Hahn, Associate Professor at BOKU, Vienna, discuss the power of collaboration – and why this is such an important project.
Meet the Experts
Sebastian Thürmann

"I have dedicated my career to the field of liquid chromatography. My role at Tosoh Bioscience involves working with different technologies like columns, resins, and instrumentation, supporting diverse applications for our clients."
Rainer Hahn

"At BOKU, I mainly focus on biomolecule purification, including chromatography as well as the other unit operations involved. I do a lot of work at the small scale, but I've also been involved in scale up and modeling."
What's the story behind ECOnti – and how did Tosoh Bioscience get involved?

RH: enGenes have a special strain of E. coli called enGenes-eXpress, which enables growth-decoupled production of recombinant protein. As part of the project, we will be working with two fermenters; in the first fermenter, E. coli cells are grown, while in the second, the induction begins and the protein is produced – enabling continuous fermentation. enGenes has already proven that they can run the process for around 14 days.
enGenes is a spin-off from BOKU, which I have worked with before. Other BOKU-related companies are also involved, including Novasign (specialized in hybrid modeling of bioprocesses) and Qubicon (specialized in data management and system control). We formed a consortium to focus on continuous E. coli production, but we also needed a continuous chromatography system. In 2021, Tosoh Bioscience acquired Semba Biosciences, which is an innovator in multi-column chromatography (MCC). We asked them to join and now we have the perfect mix of experience needed to make the continuous production of E. coli a reality. The timeline of the project is only two years, but, as a group of rather small companies and academics, we can work with agility!
ST: With a continuous bioprocessing platform, the cells, feed, and consumables can all add to costs. The consortium aimed for fast and efficient continuous processing. Tosoh Bioscience was the ideal partner for the downstream processing part project, as our bench-top MCC system allows working with uniquely low flow rates - beyond the other benefits of MCC. In a nutshell, MCC can run continuously, intensifies the chromatography step, and reduces resin consumption by using multiple small columns rather than one large one. We are also contributing to the project by sharing our chromatography expertise in other aspects of the project, such as the development of a specific affinity chromatography media for process analytical technology.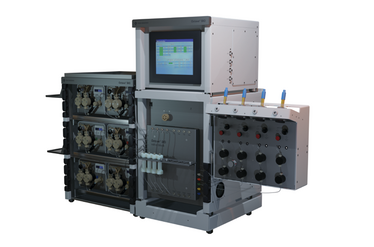 What are the goals?

RH: If we are successful, we will have created the first continuous process for E. coli. Specifically, we are focused on developing a proof of principle that demonstrates the potential for three to four weeks of continuous production. This project is only possible because the enGenes E. coli strain can secrete the recombinant protein, which means we only need to separate biomass from the supernatant. Continuous cell separation can be done either by centrifugation or filtration. In our process, we ideally also want to add a control system that makes it possible to react during the chromatography step based on changes in fermentation titer so that the system can be maintained at the optimal steady state. Ultimately, we would like to have end-toend process control.
If we had also required cell disintegration and removal of the debris then it would be more complicated to develop the process and technology – and I'm not even sure it would be possible to do these actions continuously.
ST: The goal is to create a fully developed, fully integrated, continuous, automatic upstream and downstream process that can work with batch sizes up to 10 L. We all hope to develop a process that offers significant advantages, such as a small footprint, reduced water consumption, lower energy consumption and CO2 emissions, higher product yields, and enhanced process stability.
Mammalian-based upstream processes dominate current biopharma manufacturing technologies, but an end-to-end process for E. coli opens up a new and potentially more cost-effective option.
How can you ensure that the developed process will be truly sustainable?

RH: Today, there is pressure everywhere to make processes more sustainable in terms of the ecological footprint. At the same time, cost pressures continue to increase across the biopharma industry. Continuous processing can have advantages over batch production when it comes to environmental footprint. In the second year of our project, when the processes are more developed, we plan to perform economic and ecological modelling with the help of a postdoc graduate who is experienced in this area.
ST: Fortunately, socio-political pressures drive industries to search for more economical processes. A very straightforward way to accomplish that is by increasing efficiency. Efficiency means generating more product with lower resource consumption in a shorter time, a key feature of multi-column chromatography. As money savings are directly bound to consumable savings, I really hope that this financial-ecologic win-win situation will make MCC very attractive in the biopharma industry.
In ECOnti, we aim to reduce the amount of resin needed by 90 percent. My personal hope is that MCC is initially implemented in the production space to intensify chromatography. Once in use, the continuous working principle can serve as a seed towards fully integrated biomanufacturing on the DSP side, much like perfusion reactors are doing it for USP. Once users gather experience with continuously working units, they will more likely take a step towards integrated biomanufacturing, which will have a huge positive impact on the ecological footprint of the biopharma industry.
And sustainability is not only about environmental impact. Social equity is equally important, and improving the overall efficiency of biopharma processes will help reduce the cost of the target biopharmaceutical, hence allowing more patients to receive advanced therapies.

How is Tosoh continuing to innovate in the MCC instrument space?

ST: Our MCC instrument line is called Octave, and Octave BIO is our most comprehensive and versatile MCC system for process development and proof of concept – that's why the instrument is being used in ECOnti.
One of the major concerns MCC has been facing until now is the extra effort for the customer during the transition from batch to continuous chromatography. These can arise from regulatory challenges as well as from the actual process of method transfer. At Tosoh Bioscience, we focus on helping people to smoothen their innovation journey, and the first users of our MCC solution confirmed that we make the transfer from batch to MCC as easy as it gets by pairing versatile MCC instrumentation with intuitive software and dedicated consumables. This year we just introduced an MCC-dedicated column technology – SkillPak BIO – which allows very high flow rates and ensures low column-to-column variability, which is critical for MCC.
And our next focus is on facilitating the transition from method development to production. We will soon launch a moveable Skid-based process system for the GMP-manufacturing space, offering a single-use design for easier implementation and increased patient safety. To provide a similar holistic approach as with the process development solution, we will expand our pre-packed column product line with SkillPak PRO, which are manufactured under cleanroom conditions and available in multiple MCC-specific dimensions. The easy software-guided method development and the seamless transfer from lab scale to production will enable our clients to develop and scale up their production quickly. I am convinced our holistic solution will have a significant impact in designing a more economical and ecological production of biopharmaceutics.
RH: To achieve the same performance, columns must be packed in exactly the same way. Why is this so important? Differences between individual columns prevent a steady state in the chromatography process. Tosoh really pays attention to this significant issue with its SkillPak approach.
Receive content, products, events as well as relevant industry updates from The Medicine Maker and its sponsors.