Manufacture
Advanced Medicine
Of Plumbing and Poetry
Sitting Down With… Sandy Macrae, Chief Executive Officer, Sangamo Therapeutics, USA
James Strachan | | Interview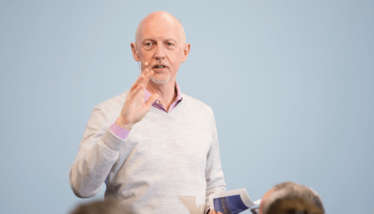 You started out in medicine, but what happened next?
I studied medicine and pharmacology at the University of Glasgow. During my time there, I did an internship at a pharma company, which completely changed my perspective of the industry. I was impressed by the professionalism and the way science was focused toward a clear goal. I then studied for a PhD at the University of Cambridge and a postdoc at Duke University Medical Center, and was offered a grant from the Wellcome Trust to set up my lab and my first PhD student. But I realized that I would never be able to compete as a full-time physician only working in the lab a couple of times a week. So I looked to industry and took a job at SmithKline Beecham (which of course became GSK). This move provided me with incredibly powerful training in how to carry out quality scientific and clinical research. I spent the next 19 years in industry, before being offered the chance to head up Sangamo in 2016.
Do you think your background in medicine and academia prepared you well for the job of leading a cell and gene therapy company?
It is rather unusual for a physician/scientist to lead a cell and gene therapy company, but I think it does help to coordinate the technology and development arms – especially important for advanced medicine. No matter the excitement around your technology, you must understand how to recruit patients with the specific disease you're trying to treat, inclusion/exclusion criteria, and ultimately how to meet your endpoints and validate your technology. But nobody knows it all. Leaders with my background will lean on a good chief business officer, with a real understanding of how to make our therapies available to patients – how to price them and how they'll fit into the various healthcare systems. Similarly, someone from a business background would require a strong head of R&D or chief medical officer. A good balance of skills and perspectives is a must.
Are there any leadership qualities you've found to be especially important?
My wife – a psychiatrist and a chief medical officer – gave me a book by James G. March, called On Leadership, in which he describes leadership as a combination of plumbing and poetry. A leader must inspire – think Henry V at Agincourt – and give people a real sense of purpose. Fortunately for us, most people in the pharmaceutical industry are inherently purpose-driven. To keep employees motivated and engaged, we need to join the dots between what they're doing and the patient. We spend a lot of time bringing patients into the organization – last week we had a couple of children with autism and before that we had men with BLS (an inherited immunodeficiency); meeting patients really helps people make those connections.
That's the poetry side, but the plumbing is a little more prosaic. Imagine you're staying at a hotel and the plumbing works – you don't go down and thank the staff. But if you flush the toilet and it doesn't work, there's a good chance you'll complain or never go back. My job is to ensure there are few obstructions - that the organization is balanced, that people are working well together and have good facilities, IT systems and benefits. In other words, I'm there to make sure the plumbing works. Leaders must listen for gurglings in the pipes and see that they are sorted before they burst!
What is your ultimate vision for the cell and gene therapy field?
The dream: for those with inherited diseases to have the choice to get it remedied by a single DNA-editing treatment. But there's also the prospect of being able to identify genetic factors in more common diseases and modify them so that we reduce the probability that you'll develop it in your lifetime – that's the next stage. With cell therapies, we may be able to do a whole series of things to a cell so that, when you give it to a patient, it would control autoimmune diseases or cancer in a way that would usually require multiple (potentially toxic) medicines. And that's why it's good to see our knowledge of cancer regulation and immunology advancing in tandem with our ability to modify cells. Eventually I envisage a world with three treatment pillars: vaccines used to prevent disease, short-term treatments to alleviate things like pain and hypertension, and changes to fundamental DNA to reduce your risk of disease – or even cure it. I don't know how far away we are, but the field is moving so quickly that, if delivery is sorted, the tools are ready to be used.
Receive content, products, events as well as relevant industry updates from The Medicine Maker and its sponsors.