Manufacture
Advanced Medicine
The Cell + Gene Curator
Looking back on 12 month's of cell and gene therapy research
James Strachan | | Longer Read
The Cell + Gene Curator collates the week's discoveries, process innovation, and business updates – delivered straight to your inbox. Subscribe: https://www.texerenewsletters.com/cellandgene
Here, we roundup a selection of some of the most significant research studies – from preclinical studies to clinical trials – from the past year.
January
Cardiff University team use CRISPR-Cas9 screening to reveal TCR able to recognize and kill most human cancer types via MR1 (in mice and in vitro) [LINK]
February
Mice with diabetes "functionally cured" by transplanting islet-sized pancreatic beta cells generated from human pluripotent stem cells [LINK]
CRISPR is used directly in the body (the eye, in this case) for the first time in patient with inherited form of blindness, called Leber congenital amaurosis [LINK]
March
Researchers use stem cell transplantation in combination with chemotherapy to cure the second-ever patient of HIV [LINK]
The UPenn researchers genetically engineer macrophages to kill solid tumors in both mouse models and human samples – coining the term CAR M-cell therapy [LINK]
April
"TriCAR" CD19/CD20/CD22 CAR T cell therapy is significantly more effective than T cells targeting CD19 alone in vitro and in animal model [LINK]
Researchers reprogram skin cells into light-sensing rod photoreceptors used for vision and transplant them into blind mice – restoring their vision [LINK]
May
Allogene reports overall response rate of 78 percent in trial of off-the-shelf CAR T (ALLO-501) combined with ALLO-647 antibody in patients with non-Hodgkin lymphoma, who had failed to respond to previous therapies [LINK]
Chinese biotech Gracell announces 24-hour "FasT CAR-T" at AACR – and says early clinical results show 20-40 times greater potency in B-ALL compared with conventionally manufactured CAR Ts [LINK]
Researchers injected mice with the FST gene (using an AAV9 vector) to increase the production of follistatin, which helps grow muscle by inhibiting myostatin, resulting in a doubling of muscle mass and strength doubled over four months [LINK]
June
J&J's anti-BCMA CAR-T for multiple myeloma achieves 25/29 complete responses [LINK]
Sloan Kettering Institute team uses "uPAR-specitic CAR T cells" to "efficiently ablate senescent cells in vitro and in vivo" and reverse some surrogates of aging in mice, such as liver fibrosis [LINK]
Verve Therapeutics researchers knocked out two cholesterol-associated genes, PCSK9 and ANGPTL3, in cynomolgus monkeys, which resulted in up to a 60 and 65 percent reduction in LDL cholesterol and triglycerides respectively [LINK]
July
Researchers from Baylor College of Medicine use off-the-shelf T cells to eradicate solid tumors in mice; the cells avoid immune rejection with an engineered 4-1BB-specific receptor (4-1BB is a cell surface receptor temporarily upregulated by activated lymphocytes) [LINK]
Auxolytic finds that when UMPS – which normally makes the nutrient uridine – is knocked out in human T cells, the cells become inactive within a week; researchers could then knock out the UMPS gene during cell therapy and give patients an uridine supplement, which they could stop taking if side effects emerge [LINK]
August
Two brothers at Macquarie University, Australia, use gene therapy to reverse the effects of memory loss associated with Alzheimer's disease in mouse models of advanced dementia [LINK]
Researchers use CRISPR to create brown-fat-like cells from progenitor white fat cells; they transplanted their "HUMBLE" progenitor cells into mice on a high fat diet and found that the mice put on less weight, had greater sensitivity to insulin and greater ability to clear glucose from the blood than the control group [LINK]
A team from the University of Pennsylvania design HIV-specific Dual (4-1BB and CD28) CAR T cells that provide a strong, long-lasting response against HIV-infection in mice while being resistant to the virus itself [LINK]
September
MSC-derived-extracellular vesicles delivered via the nose alleviate behavioral phenotypes of PCP-treated mice (a model for schizophrenia) [LINK]
AAV2 vectors bind too tightly to HSPG and get trapped before reaching their destination; and a naturally occurring AAV, with a different mechanism, is more successful at delivery into the liver [LINK]
Researchers from the San Diego State University, USA, have created a "CardioCluster" of three types of cells that reduce scar tissue and improve heart fiction in mice; they persist inside heart walls for as long as five months after transplantation [LINK]
October
University of Wisconsin Madison researchers repair Parkinson's disease-damaged neural circuits and restore motor function in mice using human stem cell-derived neurons [LINK]
University of North Carolina researchers locally deliver GD2-specific CAR T lymphocytes to mice eyes using in situ grafting, and successfully, in combination with IL-15 and an injectable hydrogel, eliminate retinoblastoma tumor cells without impairing mouse vision [LINK]
In study of 43 subjects with B-cell acute lymphoblastic leukemia receiving allogeneic anti-CD19 CAR-T after relapsing post allotransplant, 34 achieve complete histological remission; two die from multiorgan failure and cytokine release syndrome [LINK]
November
Local tissue inflammation following allogeneic hematopoietic stem cell transplantation is caused by host-derived tissue-resident memory T cells [LINK]
University College London's GD2-directed CAR T therapy is well tolerated without on-target toxicity in 12 pediatric patients with neuroblastoma – inducing rapid – but ultimately transient – reduction in tumor size in three patients [LINK]
Researchers from Trinity College Dublin develop a gene therapy for dominant optic atrophy (DOA), which protected mice models of the disease and improved mitochondrial performance in human cells that contained mutations in the OPA1 gene [LINK]
Enjoy our FREE content!
Log in or register to gain full unlimited access to all content on the The Medicine Maker site. It's FREE!
Login
Or register now - it's free!
You will benefit from:
Unlimited access to ALL articles
News, interviews & opinions from leading industry experts
Receive print (and PDF) copies of The Medicine Maker magazine
About the Author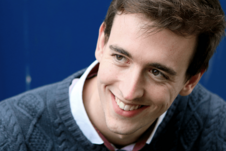 James Strachan