Manufacture
Advanced Medicine,
Standards & Regulation
The World's First CRISPR-Based Therapeutic Approval
It's official: CRISPR medicines are here
Stephanie Sutton | | 3 min read | Hot Topic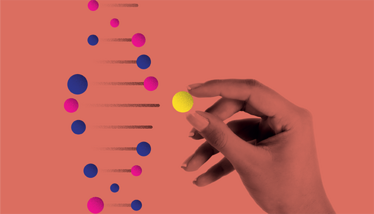 The FDA set a target action date of December 8 for a decision on whether to approve Vertex and CRISPR Therapeutics' CRISPR-Cas9 gene edited therapy for treating sickle cell disease (SCD) and transfusion-dependent beta thalassemia (TDT), but the UK has beaten it to the punch.
The UK Medicines and Healthcare products Regulatory Agency has conditionally authorized the therapy. "Today is a historic day in science and medicine: this authorization of CASGEVY in Great Britain is the first regulatory authorization of a CRISPR-based therapy in the world," said Reshma Kewalramani, Chief Executive Officer and President of Vertex, in a statement.
Casgevy (exagamglogene autotemcel [exa-cel]) has been approved for patients aged 12 years and over with "SCD with recurrent vaso-occlusive crises (VOCs) or TDT, for whom a human leukocyte antigen (HLA) matched related hematopoietic stem cell donor is not available."
In a clinical trial for SCD, 28 out of 29 patients were free of severe pain crises for at least 12 months after treatment. For TDT, 39 out of 42 patients did not need a red blood cell transfusion for at least 12 months following treatment, with the other patients seeing a reduction of more than 70 percent in the need for red cell transfusions. The MHRA says it will monitor the safety of the treatment through real-word safety data and post-authorization safety studies to be conducted by Vertex and CRISPR Therapeutics.
"Both sickle cell disease and β-thalassemia are painful, life-long conditions that in some cases can be fatal. To date, a bone marrow transplant – which must come from a closely matched donor and carries a risk of rejection – has been the only permanent treatment option," said Julian Beach, Interim Executive Director of Healthcare Quality and Access at the MHRA.
It is thought that around 2000 patients in the UK could benefit from the therapy. However, the treatment will need to be approved by the UK's drug cost watchdog, NICE, which will evaluate the benefits to patients versus the cost of the treatment to the country's national health service.
In the US, the FDA recently completed an advisory committee meeting for the therapy, noting that it was highly effective at preventing the pain episodes associated with SCD; many experts predict an approval on December 8. The therapy is also under review by the EMA.
"The MHRA's authorisation of Vertex Pharmaceuticals' and CRISPR Therapeutics' gene editing therapy, Casgevy (exagamglogene autotemcel), is a seminal moment in the history of biotechnology. This makes it the first approval globally of a gene-editing medicine," said Tim Hunt, CEO of the Alliance for Regenerative Medicine, in an emailed statement. "The therapy is transformative for patients with sickle cell disease and transfusion-dependent beta-thalassaemia, and is positioned to reduce the ongoing burden of chronic care for these diseases in the UK. This is a remarkable step forward for Advanced Therapy Medicinal Products and for those living with two rare, serious genetic diseases."

You can read more CRISPR coverage in the following articles:
Receive content, products, events as well as relevant industry updates from The Medicine Maker and its sponsors.