Manufacture
Advanced Medicine
Advanced Therapies: New Year, New Challenges
We posed one big question to a selection of speakers at CAR-TCR Summit Europe 2021: What is the single greatest challenge facing the cell and gene therapy industry in 2021?
James Strachan | | Opinion
A major theme emerging from the speaker responses was expanding the current advanced medicines technology – particularly engineered cell therapies – to solid tumors and beyond. Adrian Bot, Vice President and Global Head, Translational Medicine at Kite, a Gilead Company, thinks the greatest challenges in the immediate future are twofold. First, to "maximize the footprint of the current wave of approved products and product candidates in late-stage development through optimizing their safety profile, maximizing patient management in outpatient settings, and positioning them within treatment schemas to leverage their curative potential," he says. And second, to "accelerate expansion of this technology to broader oncology indications, including solid tumors – and, beyond oncology, to regenerative medicine, inflammatory, and chronic infectious disorders."
James Trager, CSO at NKarta Therapeutics, and Francesco Marincola, CSO of Refuge Biotech, concur. "Engineered cell therapies can bring hope to patients who lack good alternatives. The major challenge we face is to extend their promise by expanding their utility to new indications and to populations that have not yet had access to these therapies," says Trager.
Marincola emphasizes the need to "develop a cogent roadmap of the requirements for successful deployment of ex vivo-educated immune cells to eradicate solid malignancies."
But Nina Worel, Medical Director of Tissue & Cell Collection & Processing Facility at Medical University Vienna, is keen to point out that, although cell and gene therapy is already established for lymphoma (and ALL), success rates are still below early expectations. "Industry has to come up with solutions to optimize these expensive treatment options to allow the cure of more than 40 percent of relapsed/refractory patients," she says.
Sareina Wu, CEO & CSO at GenomeFrontier Therapeutics, focused on the next steps for gene editing. "There are still considerable concerns about the safety and reliability of integrating a sizable DNA fragment into a host genome, because CRISPR can only integrate small genes," she says. "Therefore, in 2021, the biggest challenge we face in gene therapy will be figuring out how to stably integrate a sizable fragment of genetic material into a predefined 'safe harbor' in the human genome where the transgene(s) can be stably and faithfully expressed without disturbing the global expression profile, maximizing safety and therapeutic efficacy."
COVID-19
"The pandemic is challenging our employees, clinical partners, and patients with unforeseen shortcomings in personal health, limitations of the healthcare systems, and limitations for suppliers of R&D and manufacturing materials," says Jan Spanholtz, CSO at Glycostem. "The single greatest challenge for us is to continue R&D, manufacturing, and clinical trials to help our oncology patients."
"Clinical trials for cancer and other diseases have been delayed by the pandemic," agrees Wenzhong Guo, CTO, Cell Therapy at Sorrento Therapeutics. "In 2021, we still face this challenge."
Jie Zhang, Head of Global Access & Value, Cell & Gene Therapy at Novartis, highlighted the need to ensure timely patient referrals to CAR-T certified treatment centers. "We need to ensure patients eligible for this one-time, potentially curative therapy are referred early," he says. "Working together, we can reduce the time to CAR-T treatment and potentially increase the chances of better outcomes."
Manufacturing
More efficient scaling and production of cell and gene therapies were also key challenges for several speakers. "To me, scalability and manufacturability (meeting regulatory requirements) are the two closely related challenges the industry faces if cell and gene therapies are to fulfil their clinical potential," says Alessandra Cesano, CMO at ESSA Pharmaceuticals.
Kimberly Noonan, EVP, CSO & Founder of WindMIL Therapeutics, argued that, though vast improvements have been made in manufacturing, the timelines are often too long and potentially too expensive to reach many patients. "Process engineering grounded in the biology of the technology can drive down timelines and costs while increasing the biologic and clinical potential of cellular therapy products," she says. "The true partnership of science and manufacturing will be crucial as we move forward in 2021 and into the future."
In light of the manufacturing and logistical challenges of autologous CAR T, Chris Heery, CMO at Precision BioSciences pointed to the promise of allogeneic therapies. "If we can see comparable clinical effects with an off-the-shelf product, it would begin to address the cost and logistics challenges associated with autologous CAR T," he says. "It's early, but we've recently observed high rates of deep responses with allogeneic CAR T in the absence of graft versus host disease, and we are hopeful that this could translate into durable responses with more follow-up."
For Marco Alessandrini, CTO at Antion Biosciences, the single greatest challenge facing the cell and gene therapy industry is manufacturing complexity. "It's a barrier to clinical translation, not GMP-friendly, impacts cost of goods, and will ultimately limit treatment access," he says. "Simplicity is key, and the fewer the steps required to create the final product, the greater the likelihood of success." Marco will be participating in a panel discussion on the future applications of next-generation gene editing for CAR T.
CAR-TCR Summit Europe 2021 is a digital event for the European community of CAR and TCR drug developers: https://bit.ly/3r7SMuT.
Subscribe to The Medicine Maker Newsletters
About the Author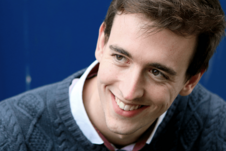 James Strachan