Manufacture
Vaccines,
Facilities,
Trends & Forecasts,
Business Practice
A Day in Egg City: Seven Things I Learned on a Visit to Britain's Largest Flu Vaccine Factory
From hemispheric analysis to hatchery logistics, there's a lot more to vaccine production than you might suspect
Angus Stewart | | 8 min read | Review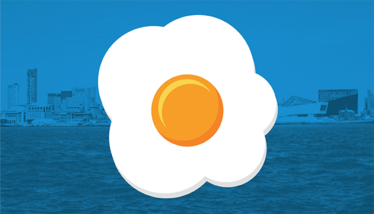 On a recent rainy day in Liverpool, UK, I visited a factory owned by one of the world's largest flu vaccine producers: Seqirus (a company headquartered in Australia). Astute readers of The Medicine Maker might well remember our 2021 coverage of Seqirus, Don't Shoot the Messenger, in which our Editor Stephanie Sutton interviewed Seqirus' Head of R&D, Russel Basser. Truly devoted readers may also recall Stephanie's previous conversation with Basser from 2020, Preparing for the Next Pandemic. During my visit, I did not meet Basser (who is actually based in Australia), but I did meet and speak with Nige Hilton, the company's VP of Manufacturing and Head of its Liverpool site. During the course of the day, I learned a great deal about influenza and the moves mankind makes to fight it through vaccinations. Below, you'll find my seven choice Flu Facts: please inoculate yourself with them, and walk away that little bit the wiser.
1. As candidate cities for vaccine production go, Liverpool is hard to beat

When I asked Hilton if operating in England's northwest conferred any particular advantages to Seqirus, he noted (after a caveat that he is from the opposite side of England's north) that workers in Liverpool – or at least in Seqirus' factory – have a humble, self-effacing, yet extremely capable quality. "Nothing seems to be too much trouble for them," he said. "They're really committed and, even in the face of difficulties, they just get on with the job."
After I pushed Hilton on whether Liverpool offers anything special beyond the character of its people, he affirmed that the city's academic institutions – from the Liverpool and John Moores universities to the Pandemic Institute (a natural ally!) – provide a huge boost to Seqirus and its incoming workforce, whom Hilton confirmed are largely hired in and around Liverpool. To borrow a Scouse phrase: "That's boss."
2. The Seqirus site probably "eats" more chicken eggs per day than Liverpool's residents

Depending on how one counts, the population of Liverpool sits at around half a million, which puts the Liverpudlian headcount slightly under the Seqirus UK's daily egg count (approximately 575,000 eggs). Normally, it's thinking about Earth's place in the universe and the number of stars around it that sets me down a road of existential questioning, but I will freely admit that trying to mentally grasp Seqirus' egg count also leaves me rather dizzy.
Most of you will know why a vaccine facility needs eggs, but please allow me the time to help those scratching their eggs – I mean, heads. Put (very simply), the vast majority of influenza viruses destined for the world's flu shots are grown inside chicken eggs. The technique has a pedigree reaching back to work on growing viruses conducted in 1931 by one Ernest William Goodpasture, which eventually translated into inactivated, egg-incubated flu vaccines rolled out by the US military during World War II.
As an editor rarely afraid to pose a potentially silly question, I asked Hilton how Seqirus likes their eggs. Does size matter? The kindly Site Head assured me that size does not matter, but pointed out that other quality factors do. At the 21 hatcheries that supply the Seqirus site, every measure possible is taken to reduce the hens' bioburden (exposure to pathogens).
3. Cracks are showing in the egg's throne

By 2032, Seqirus – and influenza vaccine manufacturing at large – may have moved on from its close relationship with the chicken egg. The storm of the COVID-19 pandemic triggered the first ever rollouts of mRNA vaccines, and now many in the industry believe these entirely chicken-free vaccines could be the future. (At The Medicine Maker we have devoted considerable coverage to this topic – have a look for yourself.)
Even Seqirus is riding the mRNA train, having developed its own self-amplifying mRNA technology, which Hilton says could work well as a means to incorporate multiple flu strains into a single vaccine. When quizzed a little harder, Hilton elaborated that, in the next couple of decades, he would like to see Seqirus putting out both adjuvant and mRNA products on a more global scale, but was also willing to confess that much of what lies ahead depends on certain unknowns, such as the emergence, safety, and adoption of these and other new technologies.
4. Seqirus' parent company was born amid global turmoil

Though the reign of the egg-based vaccine may end long before its hundredth birthday, Seqirus' parent company, CSL, is in no such danger. In fact, it is already 106 years old. The "C" in CSL (Commonwealth Serum Laboratories) gives a hint as to its origins. Midway through World War I, the Australian government was facing an unreliable supply of medicines from overseas, so to help the country become more self-sufficient the government set up CSL as a state enterprise for the production of a range of vaccines – as well as antitoxins to deal with the nasty poisons of the continent's infamous array of deadly insectile, reptilian, and ocean-borne creatures.
In 1919, CSL went through a trial by fire as Spanish flu arrived in Australia, despite a coordinated quarantine the previous year. Four in ten of the country's population caught the virus, and 15,000 died. Arguably the next-most pivotal moment in CSL's history came in the mid-nineties, when the Australian government privatized the company. For the purposes of this article, the next major event came in 2014, when CSL bought and absorbed Novartis' flu vaccine business, rebranding it to Seqirus in 2015.
Today, Seqirus does retain something of a link with the state sector – but in more than one state. During my visit, the various Seqirus authority figures in attendance were not at all shy in stressing how much they collaborate and comply with the national governments whose winter flu jab campaigns they supply. In fact, Seqirus also works with numerous national governments on pandemic preparedness too – 30 of them, to be precise.
5. Seqirus has a near-monopoly on supply for the UK seasonal adult flu vaccine

If you have received a winter flu jab in Britain, then you are very likely a part of this story. In the 2021/22 flu season, Seqirus supplied 9 out of 10 of vaccines in the seasonal adult flu vaccine program. That translated to 20.3 million jabs in England, 2.8 million in Scotland, 0.8 million in Northern Ireland, and 0.6 million in Wales (roughly proportional to the population in each country apart from Wales, which has a smaller relative share).
Despite the major slice of the pie that Seqirus commands, a number of other suppliers' vaccines ran alongside them in the market in the 2021/22 season, and will largely remain there for the coming 2023 season. These include one egg-grown and one cell-grown quadrivalent vaccine from Sanofi, and a children's nasal spray from AstraZeneca. Seqirus' egg-grown virus is the only vaccine on the list specialized for the elderly, but the company has another cell-grown vaccine for ages two and up. For hardcore vegans, I would recommend the latter.
6. Our COVID-19 lockdowns and restrictions decimated flu infections

You may not be surprised to know that during the period of massive global lockdown that much of mankind undertook to alleviate the COVID-19 pandemic, infection figures for influenza dropped massively. Seqirus has a keen eye on this because it appears to have knocked the "usual" cycle of winter and summer transmissions off its axis. The (relative) resumption of normality in early 2022 saw reemergence of the flu, but at lower rates than before and in a spike-dip-spike pattern from January through July. On my visit, several people were keen to stress that what comes next is something of an unknown, but that a post-lockdown surge could be on the cards.
The big technical question regarding such a surge: "Which strain or combination of strains will governments need to vaccinate people against?"
Whatever happens, the data generated may prove useful when (not if) another pandemic triggers further major quarantine events…
7. Data from the Southern Hemisphere can help institutions in the Northern Hemisphere brace for waves of winter flu, and vice versa

Earlier in this listicle, we established the Australian origins of CSL. For flu, a little transhemipherity (or should it be "transhemipherism"?) goes a long way. Flu strikes in winter and recedes in summer, and on either side of the equator those seasons are inverse. Watching a current winter flu in one hemisphere can help you to predict what the next winter flu will do in the other. Surging or shrinking numbers in nations of the southern hemisphere – in this case Australia – can be correlated with social factors also likely to take effect in the north, and vice versa.
Across 2022, analysis by Seqirus in Australia reported a rise in flu infections that was both unusually high and unusually early. They have suggested that this could have been linked to two factors: the return of the nation's children to school after the summer holidays, and the peak of the Omicron wave. The flu spike also triggered a "twindemic," in which the Australian healthcare system almost buckled under the combined weight of the Omicron wave and a flu spike. Ambulances stopped picking up new patients, and the system began to bleed staff as worsening working conditions pushed nurses and others to leave in search of better paid and more peaceful career paths.
So what can the northern hemisphere learn from what happened in Australia? First and foremost, the events may serve as a generalizable demonstration of what happens in a wealthy country when flu returns after a period of relative absence. One Seqirus expert advised that the best approach may be to "hope for the best, and prepare for the worst," and to that I would add: Be thankful not only for modern pharmaceutical science, but also for modern mass-scale egg logistics.
Receive content, products, events as well as relevant industry updates from The Medicine Maker and its sponsors.