Business & Regulation
Business Practice
A Bitter Pill
A new campaign highlights how far businesses have to go to close the gender pay gap – and pharma is no exception
Maryam Mahdi | | Quick Read
GlaxoSmithKline CEO Emma Walmsley is one of more than 100 high-profile women in the UK to join the #MeToo Pay campaign. The campaign was launched in response to the case of Stacey Macken, a banker who took her employer, BNP Paribas, to court over claims of sex discrimination. Macken, whose annual salary was £120,000, discovered that she was paid £40,000 less than a male colleague in the same role (1).
According to a recent report, 78 percent of companies in the UK have pay gaps in favor of men and the #MeTooPay campaigners have called for "radical and rapid action" to help women in the UK get "the pay they deserve.''
Despite being at the helm of one of the UK's largest pharma companies, Walmsley's pay is significantly lower than most of her male peers (2). In 2018, Walmsley made $7.29 million – an increase from 2017, but a long way from the £11.36 million taken home by AstraZeneca CEO Pascal Soriot (3).
In 2017, the UK government made it compulsory for employers with 250 or more employees to publish data about any gender-related discrepancies in pay. Here, we take a look at how salaries compare between men and women at six top pharma companies (AstraZeneca, Eli Lilly, GlaxoSmithKline, Novartis, Pfizer and Roche) (4).
Key Figures
Women earned between 1.3 and 21.3 percent less than men (between 99p and 79p for every £1 earned by a man) – except at Eli Lilly, where women earned £1.01 for every £1 earned by a man (0.9 percent).
At most companies, women occupied more of the lowest-paying jobs and fewer of the highest-paying jobs. Novartis and Roche were exceptions, with the same or a greater number of women in the top pay quartile.
Women received smaller bonuses than their male counterparts (up to 38 percent less).
While the figures show a discrepancy in pay in favor of men, the industry is taking steps to close the gap, with companies like Pfizer implementing initiatives to get more women into high-level roles (5).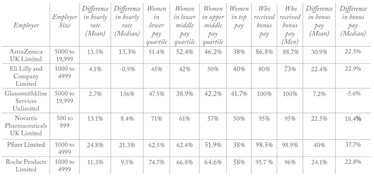 Receive content, products, events as well as relevant industry updates from The Medicine Maker and its sponsors.